---
---
Pro and cons Sony Xperia 1 II
Colourful and fluid screen
Amazing & fast camera
Suitable for 5G
Headphone port!
---
Sony Xperia 1 II with contract
No results were found that match your search query. Please remove some search options or try again.
Click here to view all deals
Looking for the lowest prices and best deals. One moment please, it's definitely worth the wait!
---
Price Sony Xperia 1 II SIM Free
---
Sony Xperia 1 II reviews
| | | |
| --- | --- | --- |
| 5 stars | | 0 reviews |
| 4 stars | | 1 review |
| 3 stars | | 0 reviews |
| 2 stars | | 0 reviews |
| 1 star | | 0 reviews |
---
---
Sony Xperia 1 II in the news
---
Sony Xperia 1 II product description
The Sony Xperia 1 II, also called the "Xperia 1 Mark 2" is Sony's flagship for early 2020. Sony is putting a lot of effort into its cameras this year. On the back is a camera system consisting of four different cameras developed in collaboration with Zeiss. But Sony is also making itself heard on video capabilities, display and audio. The Xperia 1 II is clearly a multimedia phone.
Breathtaking screen, but not perfect
Before we start, the Xperia 1 II is a premium flagship with a corresponding price tag. It is sturdy but you get quite a lot of Sony techniques in return. And we need a moment to mention them all. So this storey can be a bit long but as I said it is not our fault. We start with the screen. In full this is a CinemaWide 4K HDR OLED 6.5 inch screen. This slightly different 21:9 ratio was introduced with the first Xperia 1 and is, according to Sony, ideal for watching movies in cinemas. 6.5 inches is big enough to watch for a long time, 4K resolution makes images razor-sharp and OLED ensures crisp, clear images. The panel works on the basis of 10-bit, which allows more colour tones to be displayed and thus shows colourfast images. Sony throws its own professional colour reproduction 'CineAlta' and BRAVIA HDR master technology over this for a professional result. Funny, but does this make up for the screen as well? From numerous reviews that we have reviewed, it does. Conclusions like "breathtaking" and "great" were frequent. Unfortunately, the screen does not have a high refresh rate, which is lacking in this price range.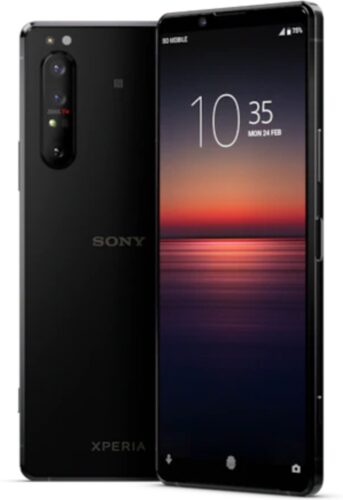 Cinema-worthy cameras
On the back of the Xperia 1 II we find three lenses, just like last year. All three have a 12MP sensor, altho the size differs. The main camera has an extra large 1/1.7 inch sensor with f/1.7 lens for extra light. There is an ultra-wide-angle camera with f/2.2 lens and a 124° angle of view intended for spacious landscapes and/or groups. And finally, there is an f/2.4 lens with 70mm focal length for zoom. Focussing is the strongest camera characteristics of the Xperia 1 II. Thanks to the built-in 3D ToF sensor, it not only does this happen in 0.03 seconds, it can also hold out for a long time. It is ideal for capturing moving subjects and filming in focus. The Xperia 1 II cheques whether it detects an eye and focuses on it. This eye-autofocus works on both people and animals and in tricky situations, such as when someone walks by or when you blink. Video can be shot in up to 4K, at 24 fps and in 21:9. That corresponds to what you see in the biscope. And the sound is also improved by automatically filtering out wind noise. All Sony-techniques coming from Alpha cameras and Handycam camcorders.
Main Sony Xperia 1 II specifications
Razor-sharp 4K OLED screen with HDR display and high colour fidelity
12+12+12MP camera with high-speed focussing, 4K video and cinema sound recording
3,5mm headphone port for your own headset
Snapdragon 865 with 5G support is fast enough to play games with
4000 mAh large battery with fast and wireless charging
Waterproof glass body (IP65/68 reated)
For the audiophile
Sony wouldn't be Sony if audio hadn't been thought of as well. You just find an audio jack connexion on the '1 Mark 2' so you can plug in your own favourite headphones. New is that the signal noise is reduced to below 20 dB. There is support for many high-res audio codecs and built-in stereo speakers for when you don't want to have them on your ear. Gaming is also possible thanks to the built-in Snapdragon 865. You can even use your PlayStation's DualShock 4 controller to play Android games. Furthermore, the Xperia 1 II 5G Internet, wireless charging, a 4000mAh battery with fast charging and a waterproof IP65/68 housing of double-sided Gorilla Glass 6. Virtually nothing has failed to make the Xperia 1 II shine. And unfortunately, this is reflected in the price.
---
Sony Xperia 1 II specification summary
Dimensions
165,1 x 71,12 x 7,62 mm
Weight
181,4 gr
EAN code
7311271632184, 7311271632160, 7311271632146, 7311271631798
Fingerprint recognition
Android
10
Colour display
6.5 inch, OLED
Camera
12 MP, 12 MP, 12 MP
Dirt and waterproof
Front camera
8 MP
Processor
Qualcomm Snapdragon 865, octa core
4G (LTE)
5G
Internal memory
256 GB (Storage)
Battery
4000 mAh
Fast charging
Wireless charging
---
Videos about the Sony Xperia 1 II
Sony likes this movie about the Xperia 1 II but when will it be in the shop?
The Sony Xperia 1 II is made for filmmakers. Why do you see in this video
Audio is a bit of an undershot child become in smartphone land. So many manufacturers nowadays leave out the headphone port. Sony not so proves it with the Xperia 1 II
The Sony Xperia 1 II is made for speed and makes things possible that smartphones couldn't before
The camera on the Sony Xperia 1 II has a lightning-fast autofocus that we know from the Alpha-series. The AI always searches for an eye and focuses on it as you can see in this video.
---
Sony Xperia 1 II alternatives
Scroll the table below to see more
| | | | | | |
| --- | --- | --- | --- | --- | --- |
| | | | | | |
| | | | | | |
| | Current product | | | | |
| Fingerprint recognition | | | | | |
| Android | 10 | 11 | 10 | 10 | 10 |
| Colour display | 6.5 inch, OLED | 6.5 inch, OLED | 6.9 inch, Infinity-O Display, hole-punch display | 6.78 inch, Fluid AMOLED, hole-punch display | 6.58 inch, OLED, hole-punch display |
| Camera | 12 MP, 12 MP, 12 MP | 12 MP, 12 MP, 12 MP | 108 MP, 12 MP, 48 MP | 48 MP, 48 MP, 5 MP, 8 MP | 12 MP, 40 MP, 50 MP |
| Dirt and waterproof | | | | | |
| Front camera | 8 MP | 8 MP | 40 MP | 16 MP | 32 MP |
| Processor | Qualcomm Snapdragon 865, octa core | Qualcomm Snapdragon 888, octa core | Octa core | 1.8 GHz, 2.42 GHz, 2.84 GHz, Qualcomm Snapdragon 865, octa core | 1.95 GHz, 2.36 GHz, 2.86 GHz, octa core |
| 4G (LTE) | | | | | |
| 5G | | | | | |
| Internal memory | 256 GB (Storage) | 256 GB (Storage) | 128 GB (Storage), 512 GB (Storage) | 128 GB (Storage), 256 GB (Storage) | 256 GB (Storage) |
| Battery | 4000 mAh | 4500 mAh | 5000 mAh | 4510 mAh | 4200 mAh |
| Fast charging | | | | | |
| Wireless charging | | | | | |
Complete comparison between the Sony Xperia 1 II and these alternatives or compare with other models
---