---
---
Pro and cons Sony Xperia 1 III
Beautiful 4K screen
Strong camera performance
Many audio functions
Powerful performance
---
Sony Xperia 1 III with contract
Monthly
Upfront
Duration
Minutes
Texts
Data
£ 35,00
£ 489,99
24 mo
unlimited
unlimited
100GB
View deal
£ 35,00
£ 499,99
24 mo
unlimited
unlimited
60GB
View deal
£ 37,00
£ 494,99
24 mo
unlimited
unlimited
60GB
View deal
£ 39,00
£ 449,00
24 mo
unlimited
unlimited
100GB
View deal
£ 38,00
£ 488,99
24 mo
unlimited
unlimited
50GB
View deal
£ 38,00
£ 489,99
24 mo
unlimited
unlimited
50GB
View deal
£ 39,00
£ 469,99
24 mo
unlimited
unlimited
100GB
View deal
£ 40,00
£ 449,99
24 mo
unlimited
unlimited
250GB
View deal
£ 39,00
£ 479,99
24 mo
unlimited
unlimited
100GB
View deal
£ 39,00
£ 495,99
24 mo
unlimited
unlimited
40GB
View deal
£ 40,00
£ 479,99
24 mo
unlimited
unlimited
unlimited
View deal
£ 40,00
£ 479,99
24 mo
unlimited
unlimited
40GB
View deal
Click here to view all deals
Looking for the lowest prices and best deals. One moment please, it's definitely worth the wait!
---
Price Sony Xperia 1 III SIM Free
---
Sony Xperia 1 III reviews
| | | |
| --- | --- | --- |
| 5 stars | | 0 reviews |
| 4 stars | | 1 review |
| 3 stars | | 0 reviews |
| 2 stars | | 0 reviews |
| 1 star | | 0 reviews |
---
---
Sony Xperia 1 III in the news
---
Sony Xperia 1 III product description
The Sony Xperia 1 III, also known as Xperia 1 Mark 3, is Sony's flagship phone for 2021. It is the first Xperia phone to have a periscope camera that allows you to zoom in between 5 and 10x without losing quality. Let's find out whether it manages to stand out enough from the rest.
Is this the perfect screen?
The biggest disadvantage of Sony phones is that there is so much to tell about them. That always makes these texts a bit longer than average, so we apologise for that already. This Xperia 1 III also has a lot to tell. Starting with the screen. It's a 6.5-inch fully notchless screen with HDR colour reproduction, a high-contrast OLED panel, high 4K resolution, an elongated 21:9 ratio and with a smooth 120Hz refresh rate. Huge overkill but the best available today without any concessions. So it seems but it's just who you ask. The fingerprint scanner is not below the screen but on the side and the screen is also quite narrow. Perfect for those who can handle it but hated by others.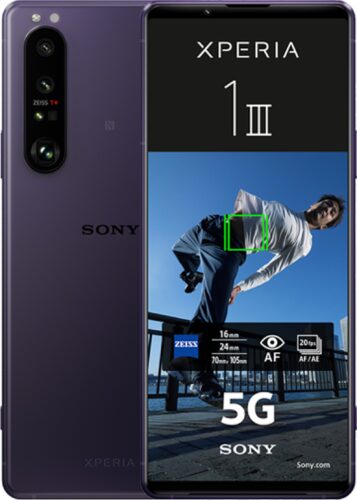 Variable telephoto lens
Biggest innovation of this "Mark 3" is the camera system. This comes from the Alpha 9 series and for the first time features a periscope camera with variable aperture. In total there are four cameras; a primary 12MP with 24mm f/1.7 lens, a 12MP ultra-wide-angle with 16mm f/2.2 lens, a 3D iTOF depth camera to accurately measure distances and the star of the show: a 12MP periscope camera with variable f/2.3 and f/2.8 lens. The Xperia 1 III detects the object you want to photograph, tracks it and focuses on it at lightning speed. Thanks to this Real-time Tracking, you never miss a chance to get a sharp picture. Especially since you can shoot 20 frames per second in a row. Zooming can be done this time with 2 different focal lengths; 70 and 105mm. That corresponds roughly to 3 and 4.5x optical zoom. Switching between both is especially fast, partially because the lens is combined with a Dual PD sensor for accurately sharp images.
Main Sony Xperia 1 III specifications
6.5-inch large 21:9 CinemaWide 4K HDR OLED display with 120Hz display
12+12+12 Quad Camera with periscope lens for zoom and accurate eye and object tracking
Powerful Snapdragon 888 processor with 12GB of RAM memory
4500 mAh large battery with 30W fast charging + wireless charging
Waterproof glass body (IP65/68)
256GB of storage memory, expandable up to max. 1TB
Dual SIM slot (shared with memory slot)
5G support for blazing fast mobile internet
Sound, both wired and wireless
As usual, the Xperia 1 III is another excellent multimedia phone. Not only can you watch content back on the screen in biscuit style, but the sound is also of a high standard. Spacious Dolby Atmos sounds over the stereo speakers and over the 3.5mm headphone port is high-fidelity sound with less distortion and up to 40% more volume. Wireless music listening is also improved by high-resolution audio codecs such as LDAC. The Xperia 1 III also features 360 Spatial Sound. With headphones on, stereo audio doesn't move with your head but is instead locked in space. This gives an extra dimension and unique listening experience.
For the Content Creators
Sony also stuffs this Xperia 1 III full of all kinds of features that actually deserve a whole chapter of explanation. Think of BionZ X engine for better nite shots, Optimise V.C. microphone that in combination with a gaming headset can reduce background noise, DSEE Ultimate that can upscale sound files with the help of artificial intelligence and the numerous video features including a wind noise filter and FlawlessEye. There is simply too little time to discuss everything in depth. Hopefully it's now clear that there's plenty to explore when you get your hands on an Xperia 1 III. Everything has been thought of and that makes this the ultimate phone for content creators and purists.
Also just a phone
We would almost forget that the Xperia 1 M3 also just a phone. A 5G phone that is. All thanks to the Snapdragon 888 processor with built-in 5G modem. It also has a generous 12GB of memory for extremely powerful performance. The battery measures 4500 mAh and that seems meagre for all the functions. Yet numerous reviews show that the battery life is very decent. Moreover, a 30W quick charger is included in the box. Your battery will be half full after half an hour. Wireless charging is also one of the possibilities and for the first time you can charge other devices wirelessly. The housing is still IP65/68 waterproof and this time it is matte with Gorilla Victus glass in front, and Gorilla Glass 6 behind. Unfortunately, all this does come with a hefty price tag.
---
Sony Xperia 1 III specification summary
Dimensions
165 x 71 x 8,2 mm
Weight
187 gr
EAN code
7311271700708, 7311271700685
Fingerprint recognition
Android
11
Colour display
6.5 inch, OLED
Camera
12 MP, 12 MP, 12 MP
Dirt and waterproof
Front camera
8 MP
Processor
Qualcomm Snapdragon 888, octa core
Dual SIM
4G (LTE)
5G
Internal memory
256 GB (Storage)
Battery
4500 mAh
Fast charging
Wireless charging
---
Videos about the Sony Xperia 1 III
The downside of marketing images is that they look so slick. A phone always looks a little different in real life. And that's why Sony takes the Xperia 1 III in Frosted Purple outside with them
Aeric Reinheart is going on a trip and taking with him... Sony's Xperia 1 III. Today, we go to the Alps and shoot some nice pictures. A piece of cake for the Xperia 1M3
Sony Alpha camera makers explain why the Xperia 1 III's camera is so good
In this video, Dom unboxes Sony's Xperia 1 III and Xperia 5 III. See what's in the box, what's not, and we also get an instant look at Sony's latest mobile phones
Sony puts teaser online for Xperia 1 III announcement on April 14. Focuses on 3 things: audio, gaming and camera
---
Sony Xperia 1 III alternatives
Scroll the table below to see more
| | | | | | |
| --- | --- | --- | --- | --- | --- |
| | | | | | |
| | | | | | |
| | Current product | | | | |
| Fingerprint recognition | | | | | |
| Android | 11 | 10 | 9.0 (Pie) | 10 | 10 |
| Colour display | 6.5 inch, OLED | 6.5 inch, OLED | 6.8 inch, Dynamic AMOLED Infinity-O Display | 6.78 inch, Fluid AMOLED, hole-punch display | 6.9 inch, Dynamic AMOLED Infinity-O Display |
| Camera | 12 MP, 12 MP, 12 MP | 12 MP, 12 MP, 12 MP | 12 MP, 12 MP, 16 MP, VGA camera | 48 MP, 48 MP, 5 MP, 8 MP | 108 MP, 12 MP, 12 MP |
| Dirt and waterproof | | | | | |
| Front camera | 8 MP | 8 MP | 10 MP | 16 MP | 10 MP |
| Processor | Qualcomm Snapdragon 888, octa core | Qualcomm Snapdragon 865, octa core | Octa core | 1.8 GHz, 2.42 GHz, 2.84 GHz, Qualcomm Snapdragon 865, octa core | 2.0 GHz, 2.5 GHz, 2.7 GHz, Samsung Exynos 990, octa core |
| Dual SIM | | | | | |
| 4G (LTE) | | | | | |
| 5G | | | | | |
| Internal memory | 256 GB (Storage) | 256 GB (Storage) | 256 GB (Storage), 512 GB (Storage) | 128 GB (Storage), 256 GB (Storage) | 128 GB (Storage), 256 GB (Storage), 512 GB (Storage) |
| Battery | 4500 mAh | 4000 mAh | 4300 mAh | 4510 mAh | 4500 mAh |
| Fast charging | | | | | |
| Wireless charging | | | | | |
Complete comparison between the Sony Xperia 1 III and these alternatives or compare with other models
---
FAQs about the Sony 1 III