Similar to the Xperia 10 and available
---
---
Sony Xperia 10 reviews
| | | |
| --- | --- | --- |
| 5 stars | | 0 reviews |
| 4 stars | | 0 reviews |
| 3 stars | | 1 review |
| 2 stars | | 0 reviews |
| 1 star | | 0 reviews |
---
---
Sony Xperia 10 in the news
---
Sony Xperia 10 product description
The Sony Xperia 10 is one of the few smartphones with a 21:9 screen. This makes it ideal for devouring content such as videos. What other advantages it has and whether we can find disadvantages is something we will cheque here.
21:9 offers advantages and disadvantages
Sony announced the Xperia 10 in early 2019. It is not the first 21:9 phone but one of the few. That has its reasons. On the one hand because it is a somewhat uncomfortable ratio. The Xperia 10 is relatively long so you don't store it in your pocket unnoticed. On the other hand, the striking screen ratio does have a number of advantages. For example, you can watch movies without screen bars and you have more screen space to show multiple apps at the same time.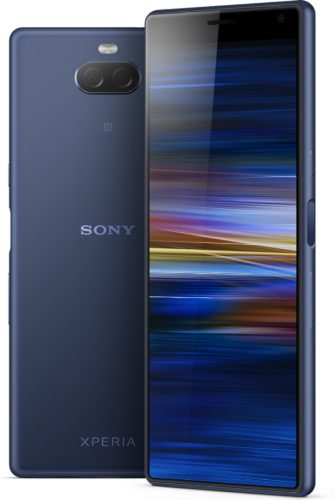 Premium mid-range
The Sony Xperia 10 is a so-called mid-range phone which makes it less expensive and less powerful. Unfortunately, this is also reflected in the performance, which is somewhat disappointing. Sony uses a Snapdragon 630 processor that is powerful enough on its own so it seems to be included in the software. Hopefully Sony will be able to solve this later via an update. We are very pleased with the appearance. The front is made of sturdy Gorilla Glass 5 which keeps it beautiful longer while the back is made of plastic with a metallic look. The advantage of plastic over metal is that it doesn't feel that cold, which is very welcome in the winter months.
Main Sony Xperia 10 specifications
21:9 widescreen 6-inch display
Fast mobile internet thanks to 4G
13 + 5 Mpixel rear camera with portrait mode
8 Mpixel selfie camera with portrait mode
Able to insert memory cards
Dual SIM functionality
Camera prepared for the screen
As we can expect from Sony, the Xperia 10 is equipped with excellent cameras. On the back we find two 13 and 5 megapixel shooters. They shoot a picture at the same time, so that the Xperia 10 can recognise 10 depths, something that is necessary to take beautiful portrait photos. The camera of the 10 shoot decent pictures, but in the dark even the bright f/2.0 lens has more trouble. Handy is that you can shoot photos and even videos in the 21:9 format so that you can make maximum use of the new screen.
---
Sony Xperia 10 specification summary
Dimensions
156 x 68 x 8,4 mm
Weight
162 gr
EAN code
7311271627906, 7311271626923, 7311271626886, 7311271626862, 7311271626725, 7311271626718, 7311271626701, 7311271624820
Fingerprint recognition
Android
9.0 (Pie)
Colour display
IPS
Camera
13 MP, 5 MP, dual camera sensor
Front camera
8 MP
Processor
Qualcomm Snapdragon 630, octa core
Dual SIM
4G (LTE)
Internal memory
64 GB (Storage)
Battery
2870 mAh
Fast charging
---
Videos about the Sony Xperia 10
Expect more from a smartphone. A contrast and colourful OLED screen, for example. The Sony Xperia 10 II has the
The camera of the new Sony Xperia 10 II has to exceed all your wildest expectations.
---
---