---
---
Pro and cons Sony Xperia 5 II
Convenient, fast HDR display
Excellent set of cameras
Features an audio jack
Powerful and fast
Not as compact as Sony wants us to believe
---
Sony Xperia 5 II with contract
Monthly
Upfront
Duration
Minutes
Texts
Data
£ 20,00
£ 460,99
24 mo
unlimited
unlimited
10GB
View deal
£ 23,00
£ 394,99
24 mo
unlimited
unlimited
20GB
View deal
£ 21,00
£ 443,99
24 mo
unlimited
unlimited
5GB
View deal
£ 23,00
£ 411,99
24 mo
unlimited
unlimited
10GB
View deal
£ 24,00
£ 395,99
24 mo
unlimited
unlimited
10GB
View deal
£ 27,00
£ 324,99
24 mo
unlimited
unlimited
20GB
View deal
£ 26,00
£ 349,99
24 mo
unlimited
unlimited
40GB
View deal
£ 21,00
£ 469,99
24 mo
unlimited
unlimited
6GB
View deal
£ 25,00
£ 378,99
24 mo
unlimited
unlimited
20GB
View deal
£ 23,00
£ 429,99
24 mo
unlimited
unlimited
6GB
View deal
£ 26,00
£ 374,99
24 mo
unlimited
unlimited
25GB
View deal
£ 30,00
£ 279,99
24 mo
unlimited
unlimited
100GB
View deal
£ 30,00
£ 279,99
24 mo
unlimited
unlimited
20GB
View deal
£ 28,00
£ 329,99
24 mo
unlimited
unlimited
25GB
View deal
£ 28,00
£ 330,99
24 mo
unlimited
unlimited
40GB
View deal
£ 26,00
£ 384,99
24 mo
unlimited
unlimited
6GB
View deal
£ 30,00
£ 289,99
24 mo
unlimited
unlimited
6GB
View deal
£ 32,00
£ 244,99
24 mo
unlimited
unlimited
100GB
View deal
£ 33,00
£ 224,99
24 mo
unlimited
unlimited
60GB
View deal
£ 30,00
£ 297,99
24 mo
unlimited
unlimited
40GB
View deal
£ 31,00
£ 279,99
24 mo
unlimited
unlimited
60GB
View deal
Click here to view all deals
Looking for the lowest prices and best deals. One moment please, it's definitely worth the wait!
---
Price Sony Xperia 5 II SIM Free
---
Sony Xperia 5 II reviews
| | | |
| --- | --- | --- |
| 5 stars | | 0 reviews |
| 4 stars | | 1 review |
| 3 stars | | 0 reviews |
| 2 stars | | 0 reviews |
| 1 star | | 0 reviews |
---
---
Sony Xperia 5 II in the news
---
Sony Xperia 5 II product description
The Sony Xperia 5 II is a relatively compact Android phone with high-end specifications. It has 5G, an impressive fast camera and an extra colourful screen. How impressive this all is in real life is what we are going to find out here.
Is it really that compact?
Sony itself calls the Xperia 5 II, also pronounced 'Xperia 5 Mark 2', a "compact smartphone". Compared to the Xperia 1 II, this is certainly true, but as is often the case in life, everything is relative. For example, the '5M2' is almost as big as the S20 from Samsung and the iPhone 12 Pro Max from Apple. If you really want something compact, you can't ignore the iPhone 12 mini. High-end alternatives with Android are unfortunately not available (anymore). Really compact you can not really call a 6.1 inch screen, especially if both above and below the screen still quite a bit of space remains. Sony applies a good screen again. An OLED panel with HDR display and Full HD+ resolution. The CinemaWide screen has an extra high 120Hz refresh rate for extra smooth transitions and animations. As a result, the Xperia 5 II also feels fast.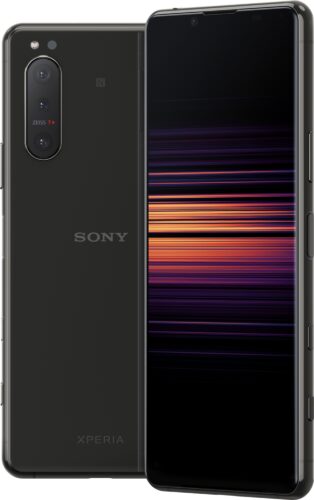 Camera with Real-time Eye autofocus
Sony used its camera knowledge in the Xperia 5 II. On the back are three 12MP cameras with Zeiss lenses. These are a regular 24mm wide angle, a 16mm ultra wide angle and a 70mm telephoto for 3x optical zoom. You don't shoot photos by pressing the screen resulting in unintended movement, no you press the shutter button on the side. Sony is one of the few that still uses this physical button and for that they deserve all the praise. Sony applies a large Exmor RS sensor that can capture a lot of light even in the dark. Combined with the necessary software algorithms, it delivers flawless photos without noise, under almost all light conditions. Sony also uses the Xperia 5 II for fast autofocus. It pays particular attention to whether it sees an eye and focuses on it. Even when your subject is moving. Never too late for that perfect picture again.
Main Sony Xperia 5 II specifications
6.1 inch CinemaWide OLED screen 120Hz with FHD+ resolution and HDR support
12+12+12MP camera with Zeiss lens for portraits, ultra-wide-angle and zoom
Forward-facing stereo speakers with Dolby Atmos sound
Latest Snapdragon 865 processor with high 8GB of RAM and 5G support
Fairly basic 8MP selfie camera sits above the screen
128GB of storage, expandable with up to 1TB memory card
Room for double nanoSIM card (shared with memory card slot)
Physical camera button
A shutter button is not the only physical button on the Xperia 5 II. Just above it there is another button between the power button, the volume buttons; the Google Assist button. We often see manufacturers using it and altho it's handy, it does make the right side of the device quite full. That's why you often get confused and then you press it by accident. Irritation is the result. More convenient is the presence of the 3.5mm audio jack where you can plug in your own headphones. It has a better signal-to-noise ratio for better sound. If you prefer to listen wirelessly, you can do so even in high resolution thanks to the LDAC codec, provided your headphones support it. Everything else feels fast thanks to the premium Snapdragon 865 processor. That's the best chip you could get at the time of release. Combined with 8GB of RAM memory, a 4000 mAh battery and 5G support, this is one of the most comprehensive Sony's you can get.
---
Sony Xperia 5 II specification summary
Dimensions
158 x 68 x 8 mm
Weight
163 gr
EAN code
7311271700388, 7311271700364, 7311271700098, 7311271700081, 7311271700043, 7311271700029, 7311271700005
Fingerprint recognition
Android
10
Colour display
6.1 inch, CinemaWide
Camera
12 MP, 12 MP, 12 MP
Dirt and waterproof
Front camera
8 MP
Processor
Qualcomm Snapdragon 865, octa core
Dual SIM
4G (LTE)
5G
Internal memory
128 GB (Storage)
Battery
4000 mAh
Fast charging
---
Videos about the Sony Xperia 5 II
A good camera doesn't make a good photographer yet. And that is why Sony gives a master class to take the most beautiful photos with the Xperia 5 II.
Stupid from Sony not only has a special haircut, he also owns an Xperia 5 II. And in this video he shows what's in the box
The Sony Xperia 5 II: small enough for your pocket but including everything you could wish for
---
Sony Xperia 5 II alternatives
Scroll the table below to see more
| | | | | | |
| --- | --- | --- | --- | --- | --- |
| | | | | | |
| | | | | | |
| | Current product | | | | |
| Fingerprint recognition | | | | | |
| Android | 10 | 11 | 9.0 (Pie) | 11 | 10 |
| Colour display | 6.1 inch, CinemaWide | 6.1 inch, CinemaWide | 6.4 inch, Curved Dynamic AMOLED Quad HD+, hole-punch display | 6.2 inch, Infinity-O Display, hole-punch display | 6.58 inch, OLED, hole-punch display |
| Camera | 12 MP, 12 MP, 12 MP | 12 MP, 12 MP, 12 MP | 12 MP, 12 MP, 16 MP | 12 MP, 12 MP, 64 MP | 12 MP, 40 MP, 50 MP |
| Dirt and waterproof | | | | | |
| Front camera | 8 MP | 8 MP | 10 MP, 8 MP | 10 MP | 32 MP |
| Processor | Qualcomm Snapdragon 865, octa core | Qualcomm Snapdragon 888, octa core | 1.7 GHz, 2.4 GHz, 2.8 GHz, octa core | 2.4 GHz, 2.8 GHz, 2.9 GHz, Samsung Exynos 2100, octa core | 1.95 GHz, 2.36 GHz, 2.86 GHz, octa core |
| Dual SIM | | | | | |
| 4G (LTE) | | | | | |
| 5G | | | | | |
| Internal memory | 128 GB (Storage) | 128 GB (Storage) | 1 TB (Storage), 128 GB (Storage), 512 GB (Storage) | 128 GB (Storage), 256 GB (Storage) | 256 GB (Storage) |
| Battery | 4000 mAh | 4500 mAh | 4100 mAh | 4000 mAh | 4200 mAh |
| Fast charging | | | | | |
Complete comparison between the Sony Xperia 5 II and these alternatives or compare with other models
---