The Xiaomi 11T is a phone from Xiaomi's flagship series and one of the first without the Mi name. It is the natural successor to the Xiaomi Mi 11 but they aren't really alike. Xiaomi has clearly taken a different path with the 11T. You can read more about it here.
Somewhat less powerful, somewhat less expensive
For years, Xiaomi equipped its flagships with a processor from Qualcomm. The 11T breaks with that tradition because inside we find the MediaTek Dimensity 1200-Ultra. On the other hand, its equally sized brother the 11T Pro does feature the Qualcomm processor; the Snapdragon 888. The choice to go for the MediaTek chipset is probably due to its lower purchase price. The 11T therefore has a considerably lower starting price than its almost equivalent brother with Qualcomm processor. If you don't need the extra processing power, that's always a plus.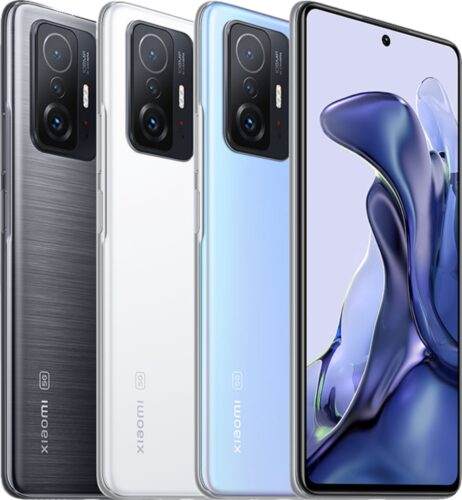 AdaptiveSync
On the front of the 11T, we find a 6.67-inch screen. That's a fraction smaller that on the Mi 11 but 6.67 inches is still big enough too. Xiaomi applies an AdaptiveSync screen with a variable refresh rate of up to 120Hz, depending on what is being displayed. Is that static text, but the 11T chooses a low refresh rate, scroll thru a list it chooses the maximum 120Hz for smooth animations. This puts minimal strain on the battery. Speaking of which. With a capacity of 5000 mAh, the 11T's battery is on the generous side and the 67W fast charging is also generous. HyperCharge is what they call it at Xiaomi and wired you can fully charge the battery in 36 minutes. Wireless charging is unfortunately not included.
Main Xiaomi 11T specifications
Smooth 6.67-inch AMOLED screen with variable refresh rate up to 120Hz
108+8+5MP camera with 120° wide angle, macro camera and 4K video
16MP selfie camera in punch-hole sits in the middle
8+128 or 8+256GB of storage (no separate memory slot)
MediaTek Dimensity 1200-Ultra processor up to 3.0GHz gives high performance
Large 5000 mAh battery with 67W HyperCharge fast charging
Dual SIM support; use of 2 SIM cards
Fast mobile internet on the go thanks to 5G
Useable macro camera
The Xiaomi 11T is one of the few phones with a 108MP camera. In practise, it shoots very nice snapshots, sharp too. There is also an 8MP camera with 120° ultra-wide-angle lens and a 5MP macro camera. We would have preferred a separate camera with telephoto lens for optical zooming, but this macro camera has sufficient resolution to make useful close-ups. Moreover, you can zoom in on the 108MP large sensor and still get sharp results. The 11T shoots video in up to 4K and at the front there is an otherwise unremarkable 16MP selfie camera. Also not really worth mentioning is its looks. It is not ugly but it is not very exciting either.