The Xiaomi Mi 10 Lite is a friendly priced 5G phone with 4 cameras on the back. For its price it has an impressive (video) camera and a generous battery with quick charge function. But does that also makes it a good buy? That is something we are going to find out here
Mediocre price, no mediocre performance
For the amount Xiaomi asks for the Mi 10 Lite you expect a mediocre processor. And yet the device is equipped with a Snapdragon 765G. Just one step below the 8xx top series. Because of this, the device has reasonable performance and it does not feel slow at all. Another advantage is that this chipset is suitable for 5G. So you don't have to buy a new mobile in a year's time when 5G has reached the national market. That makes the Mi 10 Lite a reasonably future-proof phone.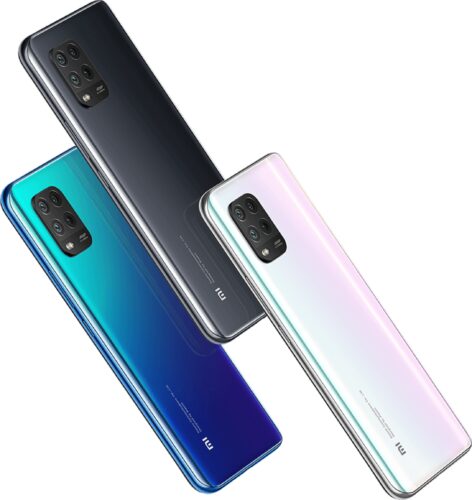 Built in video editor
On the back of the Xiaomi Mi 10 Lite we find a four-headed camera system consisting of a 48MP sensor with f/1.79 lens, 8MP ultra-wide-angle lens, 2MP depth camera and a 2MP macro lens. This gives you all the tools you need to always take a good picture. The main camera captures a lot of detail with its high resolution and selects the best settings itself because of artificial intelligence (AI). With the ultra-wide-angle lens, landscapes fit in 1 photo, the depth camera ensures beautiful portrait photos and the macro camera allows you to take shots at close range. In videos, the Mi 10 Lite is also very good. For example, there's a built-in video editor that lets you add transitions and effects or make other edits. Right from your phone.
Main Xiaomi Mi 10 Lite specifications
6.57" large AMOLED display with HDR10+ support and fingerprint recognition
48+12+2+2 megapixel camera with wide angle, depth and macro lens
16MP selfie camera with 120fps slow motion video
Snapdragon 765G with 6 or 8GB RAM memory and support for 5G
Dual nano SIM slot (only slot 1 supports 5G)
Large, colourful and smart display
All this beauty can be seen on the 6.57 inch True Colour display. Xiaomi uses the relatively expensive AMOLED which is known for its bright colour reproduction and high contrast values. There is even a fingerprint scanner built in. At the top of the screen is a drop-shaped notch for the 16MP selfie camera. What's nice about it is that it supports video at 120 fps. So you can shoot super slow motion video for an extra dramatic effect. The battery has a more than neat 4160 mAh, has 20 Watt fast charging, there is room for 2 SIM cards, it has a regular headphone input and there is an infra-red transmitter on top to control your TV. All in all a very complete package for relatively little money. Don't we have anything to whine about? You can't expand the memory and it's not waterproof. Well, there's always something.