---
---
Pro and cons Xiaomi Mi 10T Pro
Triple 108MP camera
5G support
Powerful performance
144Hz smooth screen
---
Xiaomi Mi 10T Pro with contract
Monthly
Upfront
Duration
Minutes
Texts
Data
£ 17,00
£ 327,99
24 mo
unlimited
unlimited
10GB
View deal
£ 19,00
£ 289,99
24 mo
unlimited
unlimited
10GB
View deal
£ 22,00
£ 236,99
24 mo
unlimited
unlimited
30GB
View deal
£ 21,00
£ 264,99
24 mo
unlimited
unlimited
10GB
View deal
£ 23,00
£ 220,99
24 mo
unlimited
unlimited
10GB
View deal
£ 16,00
£ 400,99
24 mo
unlimited
unlimited
6GB
View deal
£ 24,95
£ 190,99
24 mo
unlimited
unlimited
25GB
View deal
£ 24,00
£ 213,99
24 mo
unlimited
unlimited
30GB
View deal
£ 25,00
£ 215,99
24 mo
unlimited
unlimited
10GB
View deal
£ 26,00
£ 192,99
24 mo
unlimited
unlimited
30GB
View deal
£ 26,00
£ 206,99
24 mo
unlimited
unlimited
25GB
View deal
£ 23,00
£ 284,99
24 mo
unlimited
unlimited
18GB
View deal
£ 28,00
£ 186,99
24 mo
unlimited
unlimited
30GB
View deal
£ 32,00
£ 109,99
24 mo
unlimited
unlimited
100GB
View deal
£ 30,00
£ 177,99
24 mo
unlimited
unlimited
30GB
View deal
£ 35,00
£ 59,99
24 mo
unlimited
unlimited
100GB
View deal
£ 39,00
£ 0,00
24 mo
unlimited
unlimited
100GB
View deal
£ 26,00
£ 320,99
24 mo
unlimited
unlimited
30GB
View deal
£ 34,00
£ 138,99
24 mo
unlimited
unlimited
54GB
View deal
£ 38,00
£ 55,99
24 mo
unlimited
unlimited
6GB
View deal
£ 30,00
£ 252,99
24 mo
unlimited
unlimited
54GB
View deal
Click here to view all deals
Looking for the lowest prices and best deals. One moment please, it's definitely worth the wait!
---
Price Xiaomi Mi 10T Pro SIM Free
---
Xiaomi Mi 10T Pro reviews
| | | |
| --- | --- | --- |
| 5 stars | | 0 reviews |
| 4 stars | | 1 review |
| 3 stars | | 0 reviews |
| 2 stars | | 0 reviews |
| 1 star | | 0 reviews |
---
---
Xiaomi Mi 10T Pro product description
The Xiaomi Mi 10T Pro is Xiaomi's flagship for the end of 2020 and early 2021. Xiaomi launches phones at a high pace and then the differences are not always that visible. If that is also the case for the Mi 10T Pro is something we will investigate for you.
Camera: looks can be deceiving
Xiaomi himself describes the Mi 10T Pro as a "flagship camera". We therefore consider it appropriate to start this discussion at the camera. Actually, you can't ignore that, on the back is a multitude of cameras. The largest is a 108MP primary camera with a large f/1.69 aperture for extra light. There is a 13MP ultra-wide-angle camera with 123° angle of view and a 5MP macro camera for extreme close-ups. If you look at the camera island, you expect more than 3 cameras. Xiaomi tries to fool you by putting the flash and probably sensor in the same kind of circle. This makes it look symmetrical but with us the feeling remains that we are being fooled. Personally we find the choice for a macro camera instead of a zoom camera very unfortunate. Macro is in practise, with one exception, less useful than zoom. Digital zooming is possible, up to 30x. Fortunately, the quality of the camera is good; it is excellent.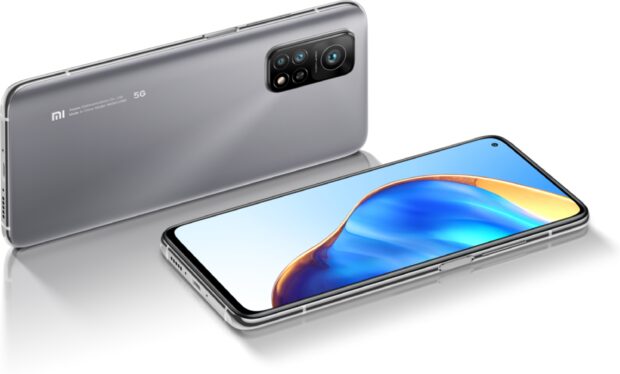 Colourfast and smooth screen
At the front is a 20MP camera in a punch-hole for selfies and self portraits. Xiaomi claims that the Mi 10T Pro has the smallest punch-hole they have made so far. Xiaomi has added many extra features for the selfie camera including Palm shutter that allows you to take a picture by raising a hand. Also a Beautify mode that with the help of artificial intelligence (AI) automatically makes your selfies even more beautiful is not missing. The screen of the 10T Pro is also beautiful. With a size of 6.67 inches it is quite large, thanks to the FHD+ resolution it is sharp and the refresh rate of 144 Hz makes animations very smooth. The colour fidelity is good, there is HDR10 support, but only the maximum brightness is not very high (650 nits). That makes readability in full sunlight a bit more difficult.
Main Xiaomi Mi 10T Pro specifications
6,67 inch DotDisplay with FHD+ resolution and HDR10
108+13+5MP camera with ultra-wide-angle and macro
20MP selfie camera in smallest punch-hole from Xiaomi to date
Snapdragon 865-processor for powerful performance and 8GB of RAM memory
128 or 256GB of storage memory (not expandable)
5G support but can also handle 4G and even 3G
Support for 2 nanosim cards (Dual SIM)
Stereo speakers but no 3.5mm audio jack for headphones
Will last for a while
The Mi 10T Pro is a 5G phone, so you're ready for the future when 5G is nationwide coverage. Xiaomi uses a Snapdragon 865 processor which is known as very powerful. It is at the time of release even the powerful Snapdragon that is available. The 10T Pro therefore feels nice and fast, apps start up quickly and gaming is no problem at all. The battery is with 5000 mAh on the spacious side. Recharging is faster than usual thanks to the 33W charger in the box. You can put 2 SIM cards in it. If they both have 4G then they can be on standby at the same time, for 5G that's only one. Is there anything else the Xiaomi Mi 10T Pro can't do? Well, it's not waterproof so we don't recommend swimming with it.
---
Xiaomi Mi 10T Pro specification summary
Dimensions
165,1 x 76,4 x 9,33 mm
Weight
218 gr
EAN code
6934177725029, 6934177725012, 6934177725005, 6934177724992, 6934177724985, 3662515015862, 3662515015848
Fingerprint recognition
Android
10
Colour display
6.67 inch, DotDisplay, hole-punch display
Camera
108 MP, 13 MP, 5 MP
Front camera
20 MP
Processor
1.80 GHz, 2.42 GHz, 2.84 GHz, Qualcomm Snapdragon 865, octa core
Dual SIM
4G (LTE)
5G
Internal memory
128 GB (Storage), 256 GB (Storage)
Memory card slot
Battery
5000 mAh
Fast charging
Audio jack plug
---
Videos about the Xiaomi Mi 10T Pro
There he is: the Xiaomi Mi 10T Pro. A camera phone with a 108MP main sensor, extra smooth display and an extremely powerful Snapdragon processor. Oh, and it's affordable too!
What exactly is in the box of the Xiaomi Mi 10T Pro? You really don't have to buy it first, you can also watch this video.
---
Xiaomi Mi 10T Pro alternatives
Scroll the table below to see more
| | | | | | |
| --- | --- | --- | --- | --- | --- |
| | | | | | |
| | | | | | |
| | Current product | | | | |
| Fingerprint recognition | | | | | |
| Android | 10 | 10 | 9.0 (Pie) | 9.0 (Pie) | |
| Colour display | 6.67 inch, DotDisplay, hole-punch display | 6.67 inch, Full HD+ Super AMOLED, hole-punch display | 6.4 inch, Curved Dynamic AMOLED Quad HD+, hole-punch display | 6.47 inch, OLED, notch | 6.67 inch, Fluid AMOLED |
| Camera | 108 MP, 13 MP, 5 MP | 108 MP, 12 MP, 20 MP, 8 MP | 12 MP, 12 MP, 16 MP | 20 MP, 40 MP, 8 MP | 16 MP, 48 MP, 8 MP |
| Front camera | 20 MP | 20 MP | 10 MP, 8 MP | 32 MP | 16 MP |
| Processor | 1.80 GHz, 2.42 GHz, 2.84 GHz, Qualcomm Snapdragon 865, octa core | 1.80 GHz, 2.42 GHz, 2.84 GHz, Qualcomm Snapdragon 865, octa core | 1.7 GHz, 2.4 GHz, 2.8 GHz, octa core | 1.8 GHz, 1.92 GHz, 2.6 GHz, HiSilicon Kirin 980, octa core | 2.84 GHz, Qualcomm Snapdragon 855, octa core |
| Dual SIM | | | | | |
| 4G (LTE) | | | | | |
| 5G | | | | | |
| Internal memory | 128 GB (Storage), 256 GB (Storage) | 256 GB (Storage) | 1 TB (Storage), 128 GB (Storage), 512 GB (Storage) | 128 GB (Storage), 256 GB (Storage) | 128 GB (Storage), 256 GB (Storage) |
| Memory card slot | | | | | |
| Battery | 5000 mAh | 4500 mAh | 4100 mAh | 4200 mAh | 4000 mAh |
| Fast charging | | | | | |
| Audio jack plug | | | | | |
Complete comparison between the Xiaomi Mi 10T Pro and these alternatives or compare with other models
---
FAQs about the Xiaomi 10T Pro