---
---
Pro and cons Mi 11 Lite 5G
Colourful fast screen
Very slim
Barely a camera bump
5G support
---
Xiaomi Mi 11 Lite 5G with contract
Monthly
Upfront
Duration
Minutes
Texts
Data
£ 19,00
£ 59,00
24 mo
unlimited
unlimited
10GB
View deal
£ 17,00
£ 127,99
24 mo
unlimited
unlimited
10GB
View deal
£ 23,00
£ 0,00
24 mo
unlimited
unlimited
10GB
View deal
£ 16,00
£ 179,00
24 mo
unlimited
unlimited
6GB
View deal
£ 22,00
£ 36,99
24 mo
unlimited
unlimited
30GB
View deal
£ 21,00
£ 64,99
24 mo
unlimited
unlimited
10GB
View deal
£ 24,00
£ 13,99
24 mo
unlimited
unlimited
30GB
View deal
£ 24,95
£ 0,00
24 mo
unlimited
unlimited
25GB
View deal
£ 14,00
£ 276,99
24 mo
unlimited
unlimited
30GB
View deal
£ 25,00
£ 15,99
24 mo
unlimited
unlimited
10GB
View deal
£ 16,00
£ 234,99
24 mo
unlimited
unlimited
30GB
View deal
£ 26,00
£ 0,00
24 mo
unlimited
unlimited
30GB
View deal
£ 26,00
£ 0,00
24 mo
unlimited
unlimited
25GB
View deal
£ 18,00
£ 192,99
24 mo
unlimited
unlimited
30GB
View deal
£ 16,00
£ 244,99
24 mo
unlimited
unlimited
6GB
View deal
£ 26,00
£ 6,99
24 mo
unlimited
unlimited
25GB
View deal
£ 21,00
£ 129,99
24 mo
unlimited
unlimited
30GB
View deal
£ 23,00
£ 84,99
24 mo
unlimited
unlimited
18GB
View deal
£ 23,00
£ 87,99
24 mo
unlimited
unlimited
30GB
View deal
£ 21,00
£ 139,99
24 mo
unlimited
unlimited
6GB
View deal
£ 25,00
£ 45,99
24 mo
unlimited
unlimited
30GB
View deal
Click here to view all deals
Looking for the lowest prices and best deals. One moment please, it's definitely worth the wait!
---
Price Xiaomi Mi 11 Lite 5G SIM Free
---
Xiaomi Mi 11 Lite 5G reviews
| | | |
| --- | --- | --- |
| 5 stars | | 0 reviews |
| 4 stars | | 0 reviews |
| 3 stars | | 0 reviews |
| 2 stars | | 0 reviews |
| 1 star | | 0 reviews |
---
---
Xiaomi Mi 11 Lite 5G product description
The Xiaomi Mi 11 Lite 5G is a lightweight 5G phone. With that we are mainly referring to its weight because at 159 grammes and 6.81 millimetres thick, the Mi 11 Lite 5G is anything but heavy. Not lightweight are its performance but more on that in this description.
Differences between the two Mi 11 Lite's
There are 2 versions of the Xiaomi Mi 11 Lite; a 4G version and a 5G variant. For all intents and purposes. We are talking about the 5G version here. It seems a bit more expensive and it is partly so, but that is also because of this Mi 11 Lite 5G is not a 64GB version. The entry-level model here starts with 128GB of storage. Moreover, you get a slightly faster processor (with support for 5G, of course). And also, the glass on the front here is of the newer and sturdier Gorilla Glass 6 which is more drop resistant than the Gorilla Glass 5 on the front of the Mi 11 Lite 4G. And while we're on the subject of differences; the 20MP selfie camera is also sharper than the 16MP on the Mi 11 Lite 4G. But enough about another phone, time to take a closer look at this Mi 11 Lite 5G.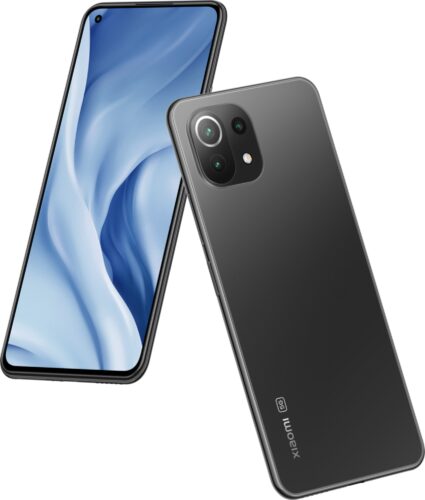 Beautiful screen
Xiaomi itself insists on how lightweight and compact this Mi 11 Lite 5G is but in reality, it's quite a big phone. One with a 6.55-inch screen. Even in a 6.81 millimetre thin body, you cannot hide that. The screen edges are small at 1.88 millimetres and the selfie camera is compactly concealed in the top left corner, but it is big. It is also colourful. The screen we mean. It is an AMOLED panel with high contrast values and a high HDR10 colour range. It's also sharp thanks to its FHD+ resolution and fast thanks to its 90Hz refresh rate. This makes animations look a lot smoother than before. What you won't find on the screen, however, is fingerprint recognition. Instead, the scanner is hidden in the side.
Main Xiaomi Mi 11 Lite 5G specifications
6.55-inch AMOLED DotDisplay with FHD+ resolution and 90Hz refresh
64+8+5MP camera with ultra wide-angle and telephoto lens
20MP selfie camera at the front in punch-hole
Snapdragon 780G processor with 5G support
4250mAh battery with 33W fast charging via USB-C cable
128GB storage memory (slot shared with Dual SIM)
Dual speakers (stereo sound)
Camera doesn't stick out its neck
In a world where smartphones are getting bigger and bigger camera modules on the back, the one on the Mi 11 Lite 5G is a welcome change. It is almost flat and protrudes only 1.77 millimetres. Apart from being beautifully designed, the module is also good at capturing sharp photos. The main camera is equipped with a 1/1.97-inch large 64MP sensor; sharp enough to take clear shots even at nite. Below that is a depth camera that allows you to take macro photos at very close range. The reasonable resolution of 5MP makes its photos pretty useable as well. To the right of this duo is an 8MP ultra-wide-angle camera for extra wide shots with a 119-degree angle of view. In terms of video, there are plenty of extra features including magic zoom, slow shutter and Pro Timelapse. This allows you to create more creative videos than the ones you see on Facebook and Instagram.
---
Xiaomi Mi 11 Lite 5G specification summary
Dimensions
160,53 x 75,73 x 6,81 mm
Weight
159 gr
EAN code
6934177745355, 6934177745218, 6934177745201, 6934177745195, 6934177745188, 6934177745171, 6934177738029, 6934177734137, 6934177734113, 3662515018535
Fingerprint recognition
Android
11
Colour display
6.55 inch, DotDisplay, hole-punch display
Camera
5 MP, 64 MP, 8 MP
Front camera
20 MP
Processor
2.4 GHz, Qualcomm Snapdragon 780G, octa core
Dual SIM
4G (LTE)
5G
Internal memory
128 GB (Storage)
Battery
4250 mAh
Fast charging
Audio jack plug
---
Video about the Xiaomi Mi 11 Lite 5G
This nice summer movie not only features a soothing music track, it was entirely shot with the Xiaomi Mi 11 Lite 5G
---
Xiaomi Mi 11 Lite 5G alternatives
Scroll the table below to see more
| | | | | | |
| --- | --- | --- | --- | --- | --- |
| | | | | | |
| | | | | | |
| | Current product | | | | |
| Fingerprint recognition | | | | | |
| Android | 11 | | 8.1 | 9.0 (Pie) | 10 |
| Colour display | 6.55 inch, DotDisplay, hole-punch display | 6.7 inch, Infinity-O Display | 6.4 inch, Infinity Super AMOLED Quad HD+ | 6.5 inch, OLED | 6.7 inch, Super AMOLED Plus Infinity-O Display, hole-punch display |
| Camera | 5 MP, 64 MP, 8 MP | 12 MP, 5 MP, 5 MP, 64 MP | 12 MP, 12 MP, dual camera sensor | 12 MP, 12 MP, 12 MP | 12 MP, 48 MP, 5 MP |
| Front camera | 20 MP | 32 MP | 8 MP | 13 MP | 32 MP |
| Processor | 2.4 GHz, Qualcomm Snapdragon 780G, octa core | 1.8 GHz, 2.2 GHz, octa core | 1.8 GHz, 2.7 GHz, Samsung Exynos 9810, octa core | Qualcomm Snapdragon 855, octa core | 1.7 GHz, 2.4 GHz, 2.8 GHz, Qualcomm Snapdragon 855, octa core |
| Dual SIM | | | | | |
| 4G (LTE) | | | | | |
| 5G | | | | | |
| Internal memory | 128 GB (Storage) | 128 GB (Storage) | 128 GB (Storage), 512 GB (Storage) | 128 GB (Storage) | 128 GB (Storage) |
| Battery | 4250 mAh | 4500 mAh | 4000 mAh | 3330 mAh | 4500 mAh |
| Fast charging | | | | | |
| Audio jack plug | | | | | |
Complete comparison between the Xiaomi Mi 11 Lite 5G and these alternatives or compare with other models
---
FAQs about the Xiaomi 11 Lite 5G