---
Pro and cons Xiaomi Mi 11 Ultra
Mini screen on the back
Record-breaking camera
Premium build
Outstanding display
---
---
Xiaomi Mi 11 Ultra in the news
---
Xiaomi Mi 11 Ultra product description
The Mi 11 Ultra is Xiaomi's highly anticipated flagship with impressive camera. Xiaomi places a big emphasis on that by giving it its own display. We're going to take a closer look at that here, compare it to the competition and decide whether you should buy it or not.-Low points Xiaomi Mi 11 Ultra* High price sometimes hard to justify
Something different at last
You have to hand it to Xiaomi; they have really created something different and special with the Mi 11 Ultra. We often see a large camera module, but the 11 Ultra has its own display. This mini screen can display the time and notifications, and is also useful while shooting a selfie with the main camera. For example, to get yourself properly in the picture. In addition, it simply looks cool; such a second screen on your mobile. It does come at a price; the module is huge, protruding and weighs quite a bit. The mini screen is touch-sensitive, but with a size of 1.1 inch, even the smallest fingers will quickly become too big. As far as we are concerned, Xiaomi should have left this out.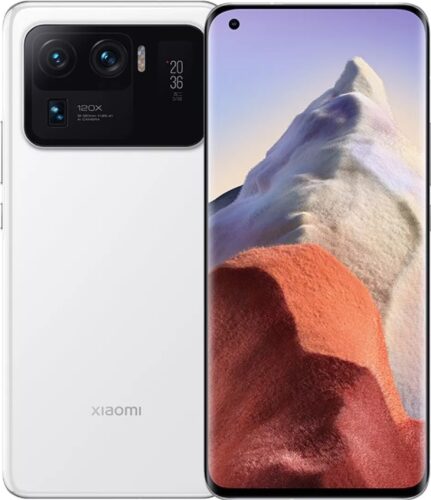 Camera system highly rated
The camera may look cool, but of course you have to be able to use it. Fortunately, they succeeded because the independent DxoMark has assessed the camera of the Mi 11 Ultra with a 143; at the time of release the highest score for a mobile phone ever. Especially the zoom functionality gets a good score. Full optical can do that with only 5x, hybrid with 10x and digital to a whopping 120x. During zooming, the transition from one lens to the other is hardly noticeable and the colours remain fairly constant. Something that competitors sometimes have trouble with. The 50MP main camera is also equipped with a remarkably large sensor: 1/1.12". That is almost 1-inch in size. This sensor, developed together with Samsung, catches more light than other phones and therefore sees more in the dark. Even more than the human eye. The ultra wide-angle and the telae camera for zooming follow close behind, each with a 48MP sharp sensor. All in all, a very complete set of cameras that are very useful in practise.
Most important Xiaomi Mi 11 Ultra specifications
6.81-inch DotDisplay with WQHD+ resolution, AMOLED panel and 120Hz AdaptiveSync
50+48+MP camera with ultra wide-angle with 128° field of view and telephoto for 5-120x zoom
20MP selfie camera with video HDR and slow-motion video
Powerful Snapdragon 888 processor with 12GB of RAM memory
256GB of non-expandable storage
5000mAh large battery with 67W fast charging (wired and wireless)
5G support but also 4G, 3G and 2G
Waterproof IP68 ceramic housing
Ceramic design
Xiaomi has cloaked the Mi 11 Ultra in a waterproof IP68 ceramic black or white casing. This results in a particularly high finished build quality. This extends to the smallest details. For example, the screen is curved on all four edges so that it sits on the device like a drop. This screen is also exceptional; it meets the very latest and most comprehensive specifications. It's got unparallelled sharpness, high brightness and exceptional colour reproduction. And with a maximum of 120Hz, it's incredibly smooth, too. Rounded bezels may look premium, but they do have one major drawback - ghost touches. These involve the screen thinking you're touching it when you're only holding it. Something the Mi 11 Ultra unfortunately also suffers from. Hopefully Xiaomi will solve this with a future software update.
Powerful enough, but for how long?
Speaking of which, officially we don't know how many updates the 11 Ultra will get. It came out with MIUI 12 which is based on Android 11, and an update to MIUI 12.5 followed in May which already fixed a lot of the aforementioned problem. If and when an update to Android 12 will come, we simply do not know and that is a bit of a shame for a phone with such a high price tag. In the meantime, the Snapdragon 888 will keep you busy, which can be called extremely powerful. The 5000 mAh battery seems sufficient on paper, but all the battery-guzzling functions mean that it does not perform above average. Charging is luckily fast with 67W. The extremely high speeds above 100W that Xiaomi is also known for are strangely enough missing. That would have finished the storey as far as we were concerned.
---
Xiaomi Mi 11 Ultra specification summary
Dimensions
164,3 x 74,6 x 8,38 mm
Weight
234 gr
Product code
K1
EAN code
6934177741104, 6934177741098
Fingerprint recognition
Android
11
Colour display
6.81 inch, DotDisplay, hole-punch display
Camera
48 MP, 48 MP, 50 MP
Dirt and waterproof
Front camera
20 MP
Processor
2.84 GHz, Qualcomm Snapdragon 888, octa core
Dual SIM
4G (LTE)
5G
Internal memory
256 GB (Storage)
Memory card slot
Battery
5000 mAh
Fast charging
Wireless charging
Heart rate monitor
Audio jack plug
---
Videos about the Xiaomi Mi 11 Ultra
Is that a phone in your pants or are you happy to see me? This Xiaomi Mi 11 Ultra has clearly come a long way!
A camera sensor almost 1 inch in size captures extra light. Not surprisingly, the Xiaomi Mi 11 Ultra has a good video nite mode. How well you see in this video
If you care about photography at all then this Xiaomi Mi 11 Ultra deserves your attention. Every photographer's dream!
---
Xiaomi Mi 11 Ultra alternatives
Scroll the table below to see more
| | |
| --- | --- |
| | |
| | |
| | Current product |
| Fingerprint recognition | |
| Android | 11 |
| Colour display | 6.81 inch, DotDisplay, hole-punch display |
| Camera | 48 MP, 48 MP, 50 MP |
| Dirt and waterproof | |
| Front camera | 20 MP |
| Processor | 2.84 GHz, Qualcomm Snapdragon 888, octa core |
| Dual SIM | |
| 4G (LTE) | |
| 5G | |
| Internal memory | 256 GB (Storage) |
| Memory card slot | |
| Battery | 5000 mAh |
| Fast charging | |
| Wireless charging | |
| Heart rate monitor | |
| Audio jack plug | |
Complete comparison between the Xiaomi Mi 11 Ultra and these alternatives or compare with other models
---
FAQs about the Xiaomi 11 Ultra