The Xiaomi Mi Note 10 is the first phone with a 5 camera system containing a 108 megapixel sensor. And while we're on the subject of impressive numbers, there's a 6.47 inch curved screen, 5250 mAh battery and 30 Watt fast charger. Here we're going to explain what you can do with that
Big boy with versatile camera system
Besides big, Xiaomi impresses with a promising camera. On the back we find 5 different camera sensors. The main camera is equipped with a 108 megapixel sensor with a bright f/1.69 lens that is stabilised on 4 axes. This allows you to shoot sharp and extremely high resolution photos, even in the dark. That many megapixels also allows you crop images later without compromising image quality. If you already know in advance that you want to zoom in, it is better to use the 12 megapixel portrait camera with 2x optical zoom. If you want to go even further, use the 5 megapixel telecamera, which brings your hybrid up to 10x closer. To take it to a whole other level you can digitally zoom in up to 50x. Enough to see the surface of the moon.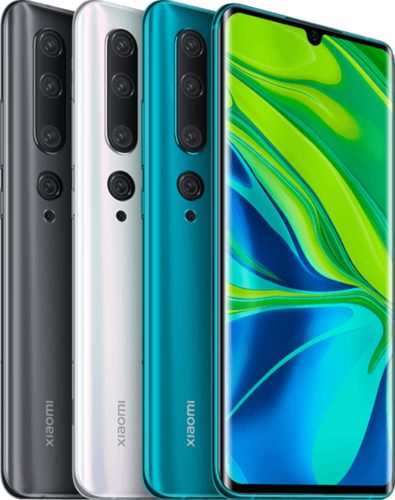 Coloured screen
There are still 2 cameras left undiscussed; a 20 megapixel camera with ultra-wide-angle lens. Thanks to this large angle of view you get the complete landscape in view. If you want to get closer use the 2 megapixel macro camera. This allows you to photograph the smallest details such as the feathers of birds or the eyes of a ladybird. At the front is a single 32 megapixel selfie camera, a resolution high enough for razor-sharp details. At the front is also where we find the curved 6.47 inch AMOLED screen. This panel is nice and colourful and even supports HDR10 for richer colour reproduction. The chosen resolution is Full HD+ which, altho lower than some other flagships, is still sharp thanks to a pixel density of almost 400. The Mi Note 10's screen also shows where we find the fingerprint scanner
Main Xiaomi Mi Note 10 specifications
6.47 inch large 3D Curved AMOLED screen with built-in fingerprint scanner
108 + 20 + 12 + 5 MP camera with zoom, macro and portrait mode
Large 5260 mAh battery with support for fast charging
Simultaneously use 2 nano SIM cards (Dual SIM)
Available over USB-C and 3.5mm headphone jack
Infra-red to control your TV
Support for fast 4G internet
Gaming-centric processor (Snapdragon 730G) at up to 2.2 GHz
Special for gamers
With all these impressive specifications, matching a high-end smartphone, Xiaomi gives it a mid-range price. And that's reflected in the choice of processor. Instead of the best of the best, Xiaomi opts for good enough. And in the case of the Mi Note 10, this has become Qualcomm's Snapdragon 730G. A chip made with gaming in mind. And to be able to do that for a long time there is a 5260 mAh large battery inside. That will be enough for most people for 2 days of use. A full recharge is done in 65 minutes which is quite fast considering the size. This 30 Watt fast charger is also included. Are we missing something? If we can still submit feature request for the Note 11, we would like to see a water resistant rating for next year.