The Xiaomi Redmi 9C is an extremely affordable smartphone with three cameras on the back. It also has a large battery with long battery life, a large screen and a fingerprint scanner. How it differs from the Redmi 9, 9A and 9T we explain to you here
Same big screen
What all Xiaomi Redmi 9 models have in common is the screen size. All have a 6.53-inch sized screen, only this 9C and 9A run a slightly lower HD+ resolution on it. That also makes the Redmi 9C a slightly more affordable phone. But one with a big battery. That is also the most important plus point. Such a large capacity gives you 167 hours of listening to music, 32 hours of calling, 10 hours of gaming or 21 hours of watching videos. But after that, give it a rest. With a 10W charge it'll take a while to get back into action.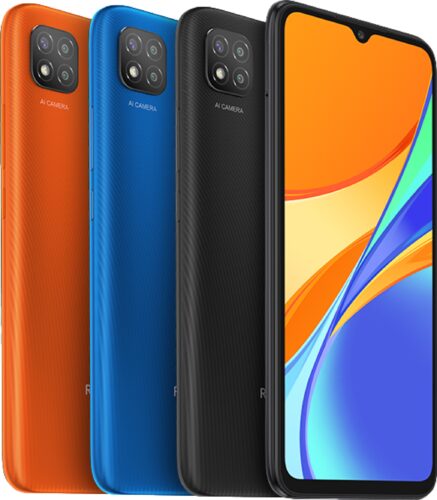 Memory options
Biggest difference from the even more affordable Redmi 9A is that this 9C does have a fingerprint scanner on the back. You'll find it on the back and it provides quick and secure access. Inside is also a slightly more powerful processor; the Helio G35. This is still a budget chipset but a bit more powerful. You also have the choice of 2 or 3GB of RAM memory. The first comes with 32GB of storage memory and the latter with 64GB. Our advice is, if your budget allows it, to go for the latter. 2+32GB is very little
Main Xiaomi Redmi 9C Specifications
6.53-inch DotDrop Display with HD resolution and AI face unlock
13+2+2MP camera with depth and macro function
5MP front selfie camera with Palm Shutter
MediaTek Helio G35 octa-core processor at up to 2,3 GHz
Choose from 2/32 or 3/64GB of RAM memory/storage
2 + 1 card slot (2x nanosim + 1 microSD memory card)
5000 mAh large battery with 10W charging
Physical fingerprint scanner at the back
Support for fast 4G mobile internet
Shooting selfies with your palm
This Redmi 9C features a triple camera on the back: a 13MP main camera, 2MP depth camera and a 2MP macro camera. This combination allows you to shoot portrait photos where you can blur the background. You can also take very close shots, altho the macro camera is not very sharp due to its low 2MP resolution. Selfies are shot with the 5MP front camera and can be controlled by putting your hand in the air. So you do not necessarily have to touch the shutter button on the screen.