The emporia Active Glam is an easy-to-use phone with a clamshell design. Two halves that you open and close like a shell. Handy, because this makes hanging up the phone a piece of cake. What else is easy about the ACTIVE Glam is shown below.+ emporia Active Glam Plus Points
* User friendly
* Reassuring emergency button
* With charging station
* Has a camera
User-friendly flip phone
We used to see this kind of flip phone more often but nowadays it is a rarity. A pity really because the feeling of flipping is very satisfying. And accidentally calling someone from their pocket or coat is definitely a thing of the past. But despite its nostalgic design, it is a modern phone. One with 4G support. Normally, this is used to quickly surf the Internet while on the move, but this Active Glam uses it to make calls. This is wise because the 3G network is now being phased out and therefore this phone will last for some time.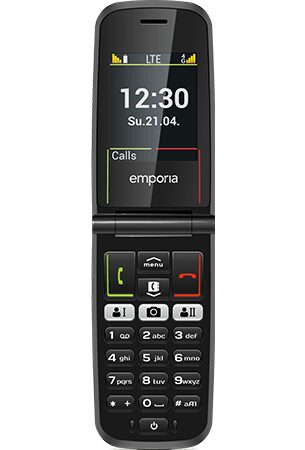 Adjustable text size
The Active Glam is not a smartphone with many complicated features but an ordinary phone. No fuss, no worry. Inside is a colour screen with large letters and outside is a strip on which ikons are displayed. This indicates whether there are missed calls or received messages. On the back is an emergency button that, if desired, can be pre-programed to send emergency messages to a select number of contacts. But if it is not needed, it can also be turned off. By placing the separately supplied battery cover, the button can even be completely hidden. The volume can be turned up and the ACTIVE glam is suitable for M4/T4 hearing aids. Furthermore, there are 2 shortcuts available to easily call someone without having to enter the menu.
Most important emporia Active Glam specifications
2,2 inch colour display with adjustable text size
Handy notifications outside via luminous ikons
User-friendly foldable design
Built-in 3 megapixel camera for easy photos
Water and dust resistant (IP54)
Recharging via universal USB-C cable + included charging station
Supplied with 2 back covers; one with emergency button and one without
Suitable for M4/T4 hearing aids
Comes with convenient charging station
As simple as the Active Glam may be, it does have a camera. It is located on the back and shoots photos in 3 megapixels. In other words, sharp enough for every-day things. The housing is dust and splash proof (IP54) so a splash of coffee will not hurt it. Charging is via a universe USB-C cable and of course the charger is just in the box. Also in the box is a charging station in which the Active Glam can be placed. By keeping the phone in one place in the house, searching is a thing of the past and the battery is always full too. Ready to go out.