The emporia Smart.5 is an easy-to-use smartphone. The device is ideal for those who want to do more with their phone without becoming too complicated. What exactly we will explain here.
Full-featured smartphone, yet simple
The emporia Smart 5, sometimes written together as emporiaSMART.5, is a smartphone from the Austrian company Emporia Telecom. We know this company mainly for its straightforward phones aimed particularly at seniors. However, for those who want more with their phone, there is the Smart 5. A smartphone with which you can take photos, send WhatsApp messages, and view the weather forecast. But still, with the comforts, we know from emporia, such as an alarm button, support for hearing aids, and a large font.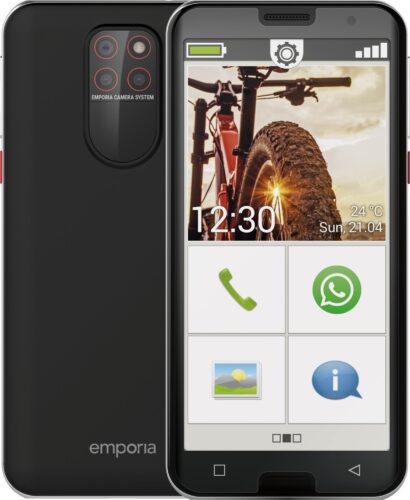 Big screen, big font
On the front of the Smart 5, we find a 5.5-inch screen. This is nice and big and therefore also suitable for slightly larger hands. It is also handy that the font is large without text falling off the screen. As mentioned, this is a full-fledged smartphone. One with Android 10 and all the apps that are suitable for it. These can be downloaded from the Google Play Store. Emporia has also installed a few as standard. A magnifying glass and a flashlight are two examples.
Most important emporia Smart 5 specifications
Large 5,5-inch display with big font
13+2+2MP camera with flash for sharp photos and videos
8MP selfie camera for self-portraits and video calling
Support for WiFi and 4G for fast internet at home and on the go
3550mAh battery with included charger
Free case and back cover with emergency button
With triple camera
On the back of the emporia Smart.5, we find a trio of cameras. The primary camera has 13 megapixels with which sharp photos can be taken. However, taking pictures from very close and far away is possible, and a nite mode is available. Handy is the automatic mode where you do not have to set anything yourself. A neat and sharp picture is almost always guaranteed. The entire body is water resistant which is extra reassuring.
Free case and emergency button
The Smart.5 comes with a free case; the Smartcover. This case provides extra protection and simplifies the interface for an even more intuitive user experience. In addition to the case, there are two back covers in the box; one with and one without an emergency call function. That is a button that, after being pressed, calls up to 5 contacts until someone answers. If desired, an SOS message can also be sent via SMS, possibly with the location details. A reassuring idea.