The realme 8 5G is the 5G version of the realme 8. But the presence of extra fast mobile internet is not the only difference. What is similar is a stylish and sleek appearance. In this review, we're going to take a closer look at both the similarities and differences. Hopefully, this will give you an answer as to which of the two is best for you
Screen with plusses and minuses
Let's start with the differences between this realme 8 5G and the regular realme 8, aside from the fact that one has 5G and the other doesn't. This 8 5G is slightly larger. This is to make room for the slightly larger 6.5 inch screen with high 90Hz refresh rate. Animations look smoother and faster because of this. The screen of this realme 8 5G does not have a built-in fingerprint scanner. That is on the side. Also gone is the colourful AMOLED screen. This has been exchanged for an IPS panel with a considerably lower peak brightness of 600 nits. Readings outdoors are therefore slightly more difficult with this Realme 8 5G. It's hard to come up with a clear winner. It's just what you find more important; a clear+colourful screen or a smooth screen.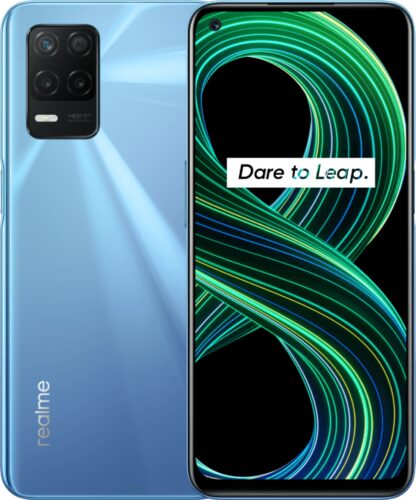 Camera no progress
The other major difference from the realme 8 4G is the camera. On the back of this 8 5G is not a quadruple camera but a triple one. And then it is also lower in resolution. This does not benefit the sharpness. Unfortunately, the ultra-wide-angle camera with which you can capture landscapes and cityscapes has also disappeared. The macro camera and black and white camera have remained, but they are not really useful in practise. The 16MP selfie camera is the same, altho the lens on this realme 8 5G is a lot brighter. That should lead to clear photos in the dark. All in all, it doesn't really sound like an improvement and so that's something you should keep in mind if you go for the realme 8 5G
Main realme 8 5G specifications
6.5-inch IPS display with FHD+ resolution and high 90Hz playback
48+2+2MP camera with macro lens and 4K video
16MP selfie camera in punch hole with f/2.1 lens
MediaTek Dimensity 700 5G processor with 8GB of RAM memory
128GB storage memory, expandable up to 1TB via external memory card
Large 5000 mAh battery with 18W fast charging
Extra fast mobile internet thanks to 5G support
Dual SIM support (2x SIM card + 1x microSD card)
Fingerprint scanner in side button
Battery with lesser fast charging
On paper, the MediaTek Dimensity 700 processor with 5G support does score a little better than the Helio G95 in the realme 8 4G but the difference isn't huge. And that brings us to the final disappointment; the battery. Altho it is the same size as its 4G version, 5000 mAh, it can't be charged as quickly. With only 18 watts instead of 30. Whether that's really such a problem we wonder. In most cases you can easily get thru the day with such a large battery. Long enough to go looking for a wall socket again.