The realme 9i is the more affordable version of the popular realme 9 (4G). It is still equipped with a smooth 90Hz screen, a triple camera system, and a large and fast-charging 5000 mAh battery. But for considerably less money. How much and what you get in return you can read here
Smoother thanks to Dynamic RAM
We start this review with the processor for a change. So under the hood, we find a Snapdragon 680 processor from Qualcomm, the same chipset that powers the more expensive Realme 9 4G. So you don't sacrifice processing power when you choose this cheaper 9i. This six nanometre-based processor delivers the decent performance that you can expect from a mid-range phone. It is also nice that the RAM can be virtually increased for an even smoother user experience. Thus, the model with 6GB of RAM can be expanded by another 5GB to 11GB. To do this, the 9i takes free memory from the storage memory. Incidentally, this technique does not work for the model with 4GB of RAM and 64GB of storage. Something to take into account when making your choice.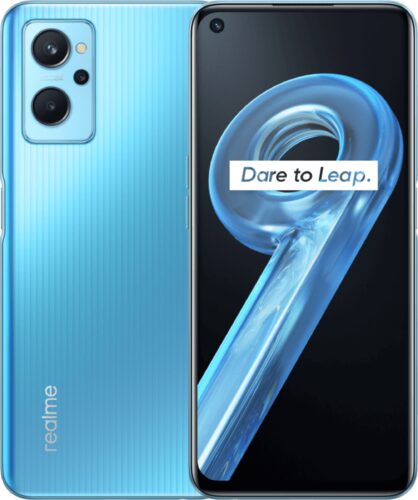 Just as smooth, slightly less colourful
Compared to the realme 9, this 9i features a larger 6.6-inch display. Still, this is an Ultra Smooth Display with smooth 90Hz playback so animations blend in smoothly. Unfortunately, it is not an AMOLED screen but a regular LCD panel. Colours do not burst as much from the screen and the contrast is also a bit lower. This is because LCD requires backlighting while with AMOLED the individual pixels can light up. Furthermore, the peak brightness comes out to 480 nits and that's not very high. This makes it a bit harder to read outdoors in full sunlight
Main realme 9i specifications
6.6-inch Ultra Smooth IPS Display with smooth 90Hz display
50+2+2MP camera with black and white and macro lens + Full HD video
16MP in-display selfie camera with a f/2.1 portrait lens
Large 5000mAh battery with included 33W Dart Charge charger
Snapdragon 680 processor with built-in 4G support
Dual SIM slot with space for memory card (max 1 TB)
Lower camera resolution isn't the worst thing
On the camera front, the 9i seems to be the one to lose out the most. The 108MP camera has been traded for a much lower 50MP resolution. As far as we are concerned, still high enough for sufficient sharpness, with plenty of detail. Indeed, the 9i's camera is aided by a bright f/1.8 large aperture lens. Realme further applies two rather unimportant cameras; a 2MP black and white camera for portrait shots and a 2MP macro camera for close-ups. Nice, but not things you will need on a daily basis. Video is shot at 1080p maximum, also called Full HD. The higher 4K is not included. All in all, not a bad package of specifications considering its price tag.