Samsung Galaxy Z Flip 4 review
Foldables crawl to maturity
On the face of it, the Flip4 seems like a minor update, yet Samsung has major hopes for the device. The expected sales numbers should dwarf those of its predecessor. In this review, we will find out how Samsung intends to do that and what it has done to achieve this.
For many, the Samsung Galaxy Z Flip4 will be their introduction with a foldable device. A phone whose screen can bend. It sounds unnatural, but for those who try, it will feel familiar. Especially those who can remember cell phones from before the smartphone era. Back then, we also flipped our phones open and shut. Then, that was mainly to protect the screen, now to turn a large screen into something compact.
Contents of the box
USB-C to USB-C cable (EP-DN980)
Quick Start Guide
Warranty card
SIM card eject pin
This Flip4 is Samsung's most affordable in its foldable range. Its sales grew higher every generation. So chances are you'll eventually come across it somewhere. And you'll be surprised. And you'll have questions. Does this even work? Won't the screen break easily? How bad is that fold in daily use? Questions also we had and that we try to answer in this review.
---
---
Samsung Galaxy Z Flip 4 with contract
Click here to view all deals
We are looking for the lowest prices and best deals. One moment please; it's definitely worth the wait!
---
Prices Samsung Galaxy Z Flip 4 SIM Free
---
Ontwerp
The Galaxy Z Flip4 is designed as a so-called clamshell. This used to be a familiar form factor but has all but disappeared thanks to the rise of smartphones. You have two parts connected with a hinge that you can fold. Samsung has not changed the design much, so it looks and feels a lot like the Flip3. However, the device is slightly more straight, and the hinge is more compact.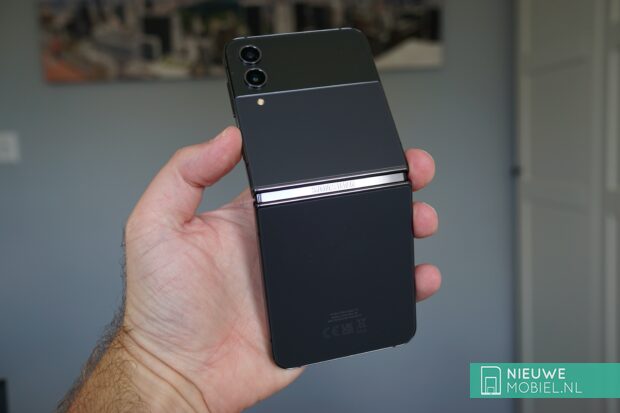 Speaking about that hinge, according to Samsung, it is one of the strongest selling points of this Flip. It has to survive the many openings during its lifetime, and it has to be able to take a beating. It is made of the latest generation of Armour Aluminium. While aluminium is known to be lightweight, it is by nature not sturdy at all. Samsung does not say how they reenforced it, but it does claim that this is the sturdiest frame they have ever made.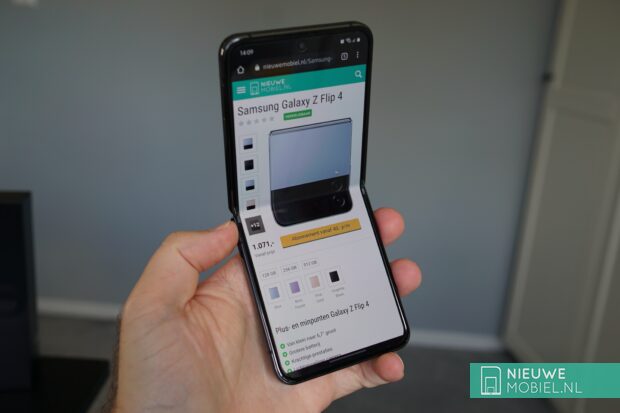 The exterior is made of Gorilla Glass Victus+, which is more resistant to scratches and accidental drops. And like last year, the device is water-resistant. Quite clever when you consider how many moving parts there are. However, it is still not dust resistant, so be careful at the beach and with lint coming out of your pocket.
The hinge is stiff, so opening it with one hand is almost impossible. You also can't swing it open in one smooth motion. This is intentional because having the device half open has possibilities that Samsung wants to exploit. For example, put the device half open on a desk as a "second screen", or take pictures of yourself. Be careful not to get your finger caught in the hinge while opening the phone. That seamlessly shuts close, and it will hurt. Trust us, we know.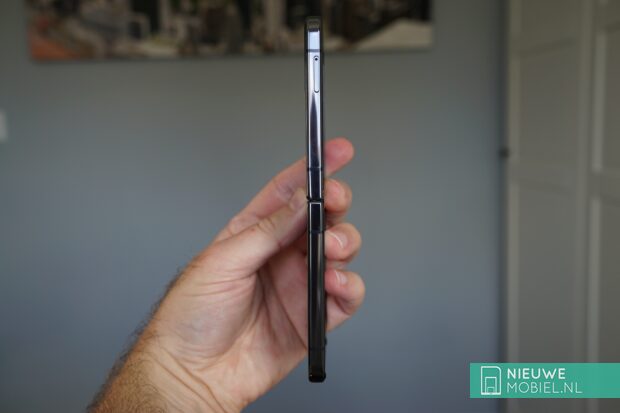 When folded, it looks like a deck of cards, only smaller. It fits effortlessly in a bag or pocket. Putting it in your back pocket is difficult, though. The amount of weight is considerable for a smartphone, 187 grammes, altho it is not too bad considering its screen size. The S22+ with its 6.6 inch screen is heavier, 196 grammes. For the fidgeters amongst us, a folded Flip is a joy to hold. You really carry something with you, you can roll it nicely thru your fingers, and everyone wants to know what you're carrying.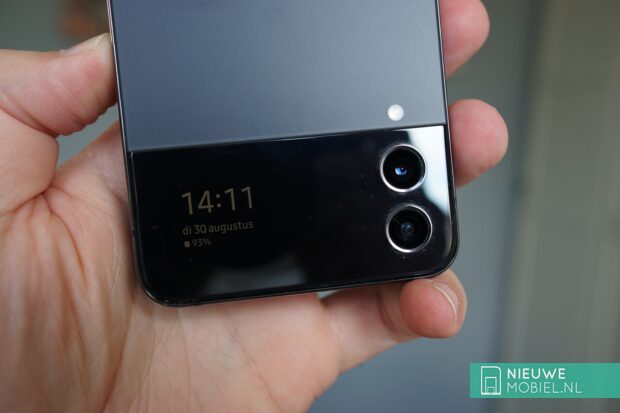 This year the Flip is available in blue, purple (Bora Purple), pink gold, and black (Graphite). Those who buy the device directly from Samsung can personalise it in the Bespoke Studio. The two panels are available in yellow, white, navy blue, khaki green, and red. You can choose between silver, gold, or black for the frame. The delivery time is a little longer because each item is custom-made. It is also possible to swap panels later on at an additional cost. This does not apply to the frame, which cannot be changed.
Beeldscherm
Outside on the Flip4, we find a 1.9-inch secondary screen. This touch-sensitive screen is primarily used for displaying information. For instance, the time, incoming messages, or the weather forecast. Some interaction is possible, but Samsung is not yet using its full potential. For example, you can only reply preset messages, and not all settings are available. With its Galaxy Watch line, Samsung has proven that more can be done with such a limited screen size.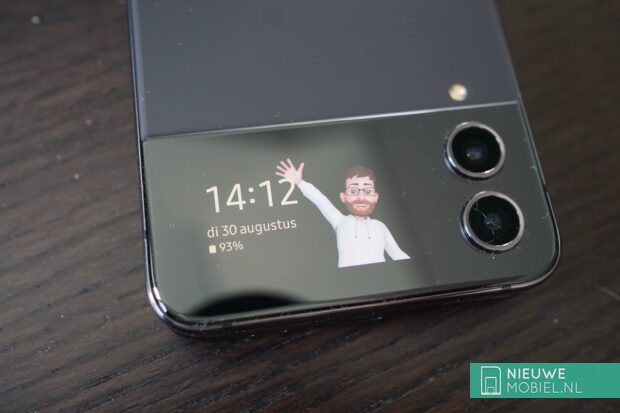 The Cover Screen doesn't rotate with how you hold it, but interestingly, the volume buttons change. When closed, up becomes down. It sounds logical what Samsung does, but in reality, it's not, which is why we usually click wrong. Under the volume keys sits the fingerprint scanner. Unfortunately, it is pretty challenging to find by touch. Therefore, a case like Samsung's Silicone Cover with Ring is recommended. It has a cut-out for the scanner.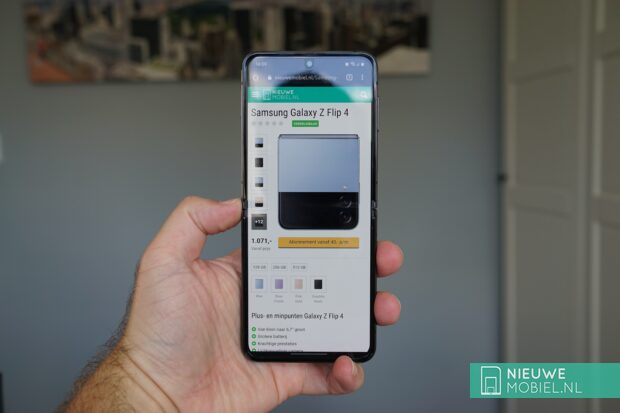 But the big star, of course, is the inner screen. At 6.7 inches, that can be called generous. The screen is about as wide as the S22 but a lot longer. You have more space for your content at your disposal. The Infinity Flex Display has a sharp FHD+ resolution and a smooth 120Hz display.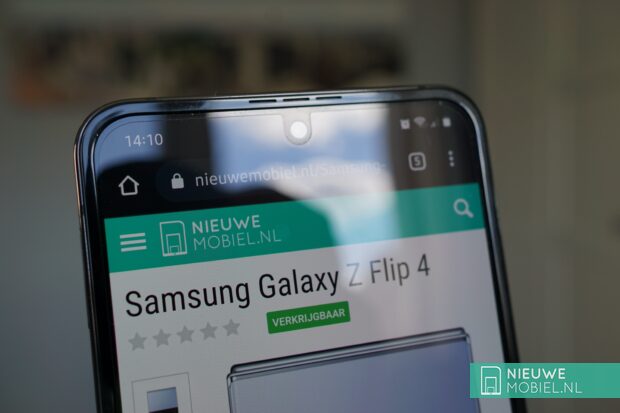 The screen is made of Ultra Thin Glass, which is real glass. There is a plastic protective layer on top, a screen protector you should not remove. If you do, you risk damaging it. The screen does not feel plastic, except at the fold. You can still feel and see it. As far as we are concerned, that is where future successors should make improvements. Other manufacturers solve this by pressing against the fold from the inside.
But is the crease that terrible? You do feel it when you swipe your finger over it. You get used to it, but you are constantly reminded of it. So do you see it too? Yes and no. From an angle, yes, but if you look straight at it from the front, not. There are hardly any distortions visible. It fades in the background, and if you consider this the price for a gigantic screen in a compact phone, we can live with that.
Prestaties
The Galaxy Z series is not (yet) as popular as the Galaxy S-series. Of which many more units are sold. Therefore there aren't as many supply issues. While Samsung still has to alternate between its own Exynos processor and Qualcomm for the Galaxy S series, it can buy from a single manufacturer for the Flip4. This is good news for those who are not fans of Exynos chips. In terms of performance and energy efficiency, the Exynos chips always lag behind their Snapdragon counterparts.
Samsung does not mention it on their website, but inside the Flip4, we find the Snapdragon 8 + Gen 1 processor from competitor Qualcomm. This makes the Flip4 the most powerful Galaxy phone at the moment. There is 8GB of RAM, which makes starting apps fast as well as switching between apps. However, scrolling thru your Twitter timeline, for example, is sometimes a bit jumpy. This could be an Android problem, or perhaps of One UI 4.1, but the fact remains that Apple's iOS feels smoother.
Software
This is already Samsung's fourth generation of foldable phones, yet we are surprised at how little the software takes advantage of the features that foldables bring. However, Samsung did make some adjustments, particularly to the camera. FlexCam splits the interface in two as soon as you partially fold the Flip4; the camera feed is then shown at the top, and the controls are shown below.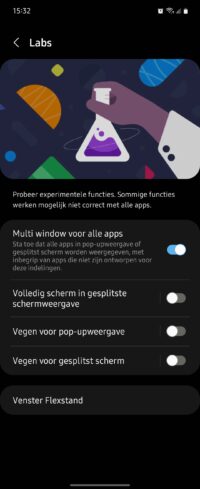 App developers will each have to build in support. You can force apps to use the Flexstand option, but Samsung does not guaranty they will work properly. The app is then shown in the top half of the screen with some controls at the bottom, such as 1) showing the notification drawer, 2) taking a screenshot, 3) changing screen brightness, 4) changing volume, and 5) a trackpad. With the last option, the trackpad works like a mouse. All nice but not very practical. Most of the options are found in the experimental Labs section. This shows how much this is still in its infancy.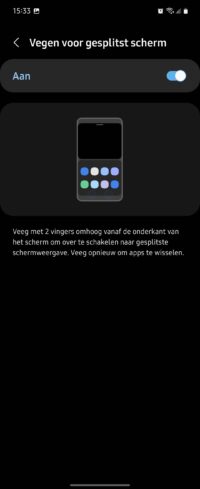 The large screen could also shine in landscape mode. It is wide enough to show apps split-screen or divide the interface in two. For example, in Gmail, you could have the inbox on the left and the selected mail on the right. Or, in Samsung's contacts app, you could show a different overview in portrait than in landscape. But the Flip4 does none of that. So, in our opinion, much work still needs to be done.
Hardware
The most significant change that Samsung has made as far as we are concerned is the considerably larger battery. It was the biggest downside of the Flip3; the limited battery life. That had everything to do with the limited battery capacity. In the Flip4, this has been increased to 3700 mAh. Still, not much, considering the screen size. The more energy-efficient Snapdragon processor helps to ease the pain. The design also makes up for it. Incoming messages can be viewed on the outer screen. You don't have to unlock your phone. The screen doesn't have to be turned on. All that saves battery.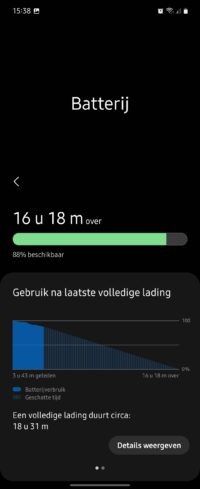 Still, with reasonably intensive use, it will be challenging to make it to the end of the day. Short sessions of wireless charging can help. Fortunately, the Flip4 can do this faster thanks to Fast Wireless Charge 2.0 support, provided you have such a charger. Wired is slightly quicker, but with 25W, it lags far behind the competition. Still, half an hour of charging should be enough for a half-full battery.
Camera
Samsung has placed a pair of cameras on the Flip 4. They are a 12MP primary camera with a wide-angle lens and a 12MP ultra-wide-angle with a 123° viewing angle. Like last year, a separate camera for optical zooming is missing. Despite the same number of megapixels, Samsung promises better image quality. On the one hand, by using a physically larger sensor, on the other hand by utilising features inside the Snapdragon 8+ Gen 1. The results are similar to the S22 series. Galaxy phones tend to exaggerate colours a bit, something you luv or hate, but the results are outstanding overall.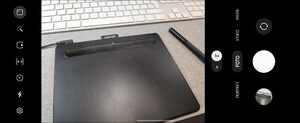 Conveniently, you can use the outer screen as a viewfinder. The 10MP selfie camera inside is nice but not better than the primary camera. So if you want to use that, you can do so without guessing if you're in the frame. Don't forget to turn on the 'prevue cover screen' setting. This is also useful for the person you want to take a picture of. They can then already see themselves.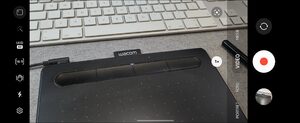 The Flip4 can shoot video up to 4K (UHD) at 60 frames per second. If you want to fill up the storage memory a little slower, you can choose FHD or HD at 60 or 30 fps. The Flip4's image stabilisation is set quite aggressively, even when the 'superstable' mode is off. Those who want to make some 'Blair Witch Project'-like movie should choose other equipment.
Conclusie
This Flip4 shows that the foldable market is slowly maturing. It has taken a few years, and mistakes are allowed to be made by the few shortcomings we forgive at this young age. Things can be improved, need to be improved, but we turn a blind eye to that for now. The crease will have to be less conspicuous to become mainstream. Competitors have proven that it can be done, so Samsung must follow. This Flip4 will help make foldables known to the general public. For many, it will be their first encounter with foldables. Not because they own one themselves but because they know someone who has one.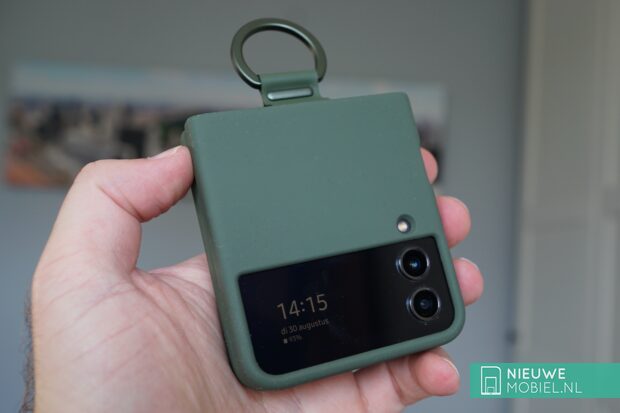 That someone has taken the leap, the leap forward. Foldables are the future. Having a large screen in a compact design brings enormous advantages. Folded up, you have an attractively designed device that makes people wonder what it is. It tells you the time and whether you have incoming messages. It might help you get rid of your phone addiction because the act of opening it might be too much. Once opened, you have an immense display at your disposal. Large enough for all your content and for hours of viewing pleasure. The software needs to make optimal use of this, which can be solved with a future software update.
There is virtually no competition. Motorola is soon expected to launch the Razr 3, which could make it difficult for him, and Huawei also has a similar phone in its line-up. It is, however, not widely available and does not use Android services. So Samsung can slowly conquer the entire foldable market. We will notice this in the coming years, as will the competition. They will have to follow or settle for the scraps. We are on the brink of exciting times.
---
---
FAQs about this Samsung Flip 4 review