---
---
Pro and cons Apple iPhone 11 Pro
Versatile triple camera system
Significantly longer battery life
Even faster processor for more speed
Available in new colour
64 GB for the entry level model is not very 'Pro'
---
Apple iPhone 11 Pro with contract
Monthly
Upfront
Duration
Minutes
Texts
Data
£ 14,00
£ 488,99
24 mo
unlimited
unlimited
30GB
View deal
£ 14,00
£ 491,99
24 mo
unlimited
unlimited
10GB
View deal
£ 15,00
£ 469,99
24 mo
unlimited
unlimited
30GB
View deal
£ 15,00
£ 472,99
24 mo
unlimited
unlimited
10GB
View deal
£ 16,00
£ 450,99
24 mo
unlimited
unlimited
30GB
View deal
£ 17,00
£ 430,99
24 mo
unlimited
unlimited
30GB
View deal
£ 16,00
£ 464,99
24 mo
unlimited
unlimited
50GB
View deal
£ 18,00
£ 422,99
24 mo
unlimited
unlimited
50GB
View deal
£ 19,00
£ 407,99
24 mo
unlimited
unlimited
50GB
View deal
£ 23,00
£ 314,99
24 mo
unlimited
unlimited
6GB
View deal
£ 21,00
£ 370,99
24 mo
unlimited
unlimited
6GB
View deal
£ 26,00
£ 259,99
24 mo
unlimited
unlimited
25GB
View deal
£ 32,00
£ 119,00
24 mo
unlimited
unlimited
100GB
View deal
£ 28,00
£ 232,99
24 mo
unlimited
unlimited
25GB
View deal
£ 30,00
£ 188,99
24 mo
unlimited
unlimited
100GB
View deal
£ 35,00
£ 69,00
24 mo
unlimited
unlimited
100GB
View deal
£ 34,00
£ 99,99
24 mo
unlimited
unlimited
6GB
View deal
£ 31,00
£ 171,99
24 mo
unlimited
unlimited
25GB
View deal
£ 36,00
£ 59,99
24 mo
unlimited
unlimited
50GB
View deal
£ 29,00
£ 235,99
24 mo
unlimited
unlimited
unlimited
View deal
£ 39,00
£ 0,00
24 mo
unlimited
unlimited
100GB
View deal
Click here to view all deals
Looking for the lowest prices and best deals. One moment please, it's definitely worth the wait!
---
Price Apple iPhone 11 Pro SIM Free
---
Apple iPhone 11 Pro reviews
| | | |
| --- | --- | --- |
| 5 stars | | 2 reviews |
| 4 stars | | 0 reviews |
| 3 stars | | 0 reviews |
| 2 stars | | 0 reviews |
| 1 star | | 0 reviews |
---
---
Apple iPhone 11 Pro in the news
---
Apple iPhone 11 Pro product description
The Apple iPhone 11 Pro is Apple's first iPhone to carry the Pro name and that comes with expectations. Whether this iPhone 11 Pro lives up to those expectations and what Apple had to do to achieve that is something that we will explain here.
Status symbol with matching price tag
Apple claims that the iPhone 11 Pro has been renewed from head to toe. We think that goes a bit far because the looks are still very similar to its predecessor; the iPhone XS. We do pay tribute to the name because by using the Pro name it immediately becomes clear what it's all about. Moreover, it is more in line with Apple's laptop series. But before we start: the iPhone 11 Pro is an expensive phone. A very expensive one. So expensive that you might wonder if you're not better off with an iPhone 11. Or even an iPhone X. We can't answer that question for you. Simply because there is no reasonable argument to come up with. Everything the iPhone 11 Pro has has other, cheaper phones as well. There's only one reason to buy the iPhone 11 Pro: because you want the most advanced iPhone. And you've come to the right place with this 11 Pro.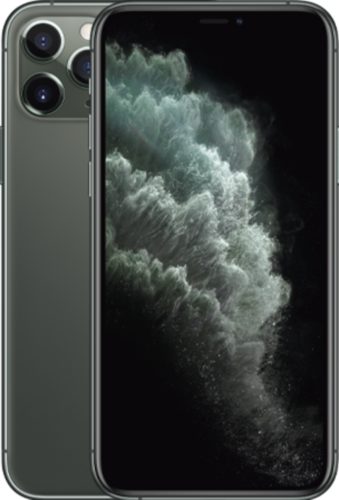 Professional camera with functions
Very good, you're still here! That means you want to know what you're getting into with an 11 Pro. Quite a bit. It's the first iPhone with three cameras on the back. They're all 12 megapixels but they all do something different. Mostly you will use the 26mm camera. Ideal for portraits and every-day snapshots. Zooming in is done with the 52mm telephoto lens with which you get up to 2x closer. New this year is the 13mm ultra wide angle lens. This allows you to zoom up to 4x. Ideal to get pictures of something that previously did not fit in frame. Think of landscapes, buildings and large groups up close. Apple has also worked hard on its HDR algorithm. It automatically adjusts all kinds of things like exposure and contrast without losing colour and detail. Video is also upgraded to 4K and up to 60 frames per second and can be edited directly on your iPhone 11 Pro. Rotate, crop, automatically enhance, and even add filters to video.
Main Apple iPhone 11 Pro specifications
Bright 5.8 inch Super Retina XDR display
3x 12MP rear camera with zoom and wide-angle lens
Support for Dual SIM (thanks to built-in eSIM)
Gigabit 4G support for lightning-fast mobile internet
12 megapixel Face Time camera with new portrait exposure modes
Dolby Atmos for spatial sound
Powerful and keeps that up for a long time
Most of these new features are made possible by the new A13 Bionic. This Apple designed chip is so fast and powerful that it effortlessly turns the iPhone 11 Pro into the fastest iPhone ever. That extra processing power also benefits Face ID. The face recognition that unlocks your iPhone is now 30% faster. Even the Internet is faster thanks to support for faster Gigabit 4G/LTE and WiFi 6. The Apple A13 Bionic is more energy efficient, too. Along with a larger battery, it delivers up to 4 hours more battery life than its predecessor. That's a big improvement. And once the battery is drained the included 18W quick charger recharges it in half an hour.
All on board, this time in an iPhone
Despite its familiar appearance, the iPhone 11 Pro has been given a whole new finish. The front and back are still made of glass but have a special treatment which makes it feel matte. The frame is still made of stainless steel altho new colours have been added. All in all, the Apple iPhone 11 Pro is a complete iPhone that has everything another high-end phone has had for a long time, but this time it's in an iPhone. And that's all that matters.
---
Apple iPhone 11 Pro specification summary
Dimensions
144 x 71,4 x 8,1 mm
Weight
188 gr
Product code
A2160
EAN code
9508965353663, 9508964118249, 9508959661385, 9508957359888, 9508955734519, 9508953441990, 9508941733441, 9508933598713, 9506672836448, 9506658915266, 9504569729361, 9504567853327, 9503148651413Show 125 others

, 9503148621362, 9503146141749, 9503141464836, 9502886138361, 9502883931491, 9502752989615, 9502745996897, 9502738981725, 9502736352640, 8720195024200, 8720195024194, 8720195024163, 8720195024156, 8720195024040, 8720195024033, 8720195024019, 8720195024002, 8720195023999, 8720039733350, 8720039733343, 8720039733336, 8720039733329, 2750119816822, 0400063415573, 0400063415566, 0400063415559, 0400063415542, 0400063415511, 0400063415504, 0400063414712, 0400063414705, 0400063414699, 0400063414682, 0400063414668, 0400063414644, 0400063414637, 0400063414620, 0400063414606, 0400063414590, 0400063414583, 0400063414309, 0400063413647, 0400063413623, 0400063413616, 0400063413609, 0400063413593, 0400063413333, 0400063413197, 0400063413173, 0400063413166, 0400063413159, 0400063413128, 0400063413111, 0400063413104, 0400063413098, 0400063413081, 0400063413074, 0400063413067, 0400063412800, 0190199392502, 0190199392403, 0190199392212, 0190199392168, 0190199392069, 0190199391871, 0190199391826, 0190199391727, 0190199391710, 0190199391536, 0190199391482, 0190199391383, 0190199391239, 0190199391192, 0190199391147, 0190199391048, 0190199390850, 0190199390805, 0190199390706, 0190199390515, 0190199390461, 0190199390362, 0190199390218, 0190199390171, 0190199390126, 0190199390027, 0190199389878, 0190199389830, 0190199389786, 0190199389687, 0190199389496, 0190199389441, 0190199389342, 0190199389335, 0190199389151, 0190199389106, 0190199389014, 0190199389007, 0190199388857, 0190199388819, 0190199388765, 0190199388673, 0190199388666, 0190199388659, 0190199388512, 0190199388475, 0190199388437, 0190199388420, 0190199388413, 0190199388406, 0190199388390, 0190199388383, 0190199388376, 0190199388369, 0190199388352, 0190199388345, 0190199388338, 0190199388321, 0190199387485, 0190199386884, 0190199386587, 0006000000002, 0005000000012, 0005000000005, 0004000000008, 0003000000032, 0000000011099

iOS
13
Colour display
5.8 inch, Super Retina XDR, notch
Camera
12 MP, 12 MP, 12 MP
Dirt and waterproof
Front camera
12 MP
Processor
Apple A13 Bionic
Dual SIM
4G (LTE)
Internal memory
256 GB (Storage), 512 GB (Storage), 64 GB (Storage)
Memory card slot
Battery
3190 mAh
Fast charging
Wireless charging
Audio jack plug
---
Apple iPhone 11 Pro alternatives
Scroll the table below to see more
| | | | | | |
| --- | --- | --- | --- | --- | --- |
| | | | | | |
| | | | | | |
| | Current product | | | | |
| iOS | 13 | 12 | | | |
| Colour display | 5.8 inch, Super Retina XDR, notch | 5.8 inch, OLED, notch | 6.3 inch, Dynamic AMOLED Infinity-O Display | 6.0 inch, OLED, hole-punch display | 5.7 inch, IPS |
| Camera | 12 MP, 12 MP, 12 MP | 12 MP, dual camera sensor | 12 MP, 12 MP, 16 MP | 12.2 MP, 16 MP, dual camera sensor | 12 MP |
| Dirt and waterproof | | | | | |
| Front camera | 12 MP | 7 MP | 10 MP | 8 MP | 8 MP |
| Processor | Apple A13 Bionic | Apple A12 Bionic, hexa core | Octa core | 1.8 GHz, 2.2 GHz, 2.4 GHz, octa core | 2.0 GHz, Qualcomm Snapdragon 660, octa core |
| Dual SIM | | | | | |
| 4G (LTE) | | | | | |
| Internal memory | 256 GB (Storage), 512 GB (Storage), 64 GB (Storage) | 256 GB (Storage), 512 GB (Storage), 64 GB (Storage) | 256 GB (Storage) | 128 GB (Storage) | 128 GB (Storage) |
| Memory card slot | | | | | |
| Battery | 3190 mAh | 2658 mAh | 3500 mAh | 4080 mAh | 4000 mAh |
| Fast charging | | | | | |
| Wireless charging | | | | | |
| Audio jack plug | | | | | |
Complete comparison between the Apple iPhone 11 Pro and these alternatives or compare with other models
---
FAQs about the Apple 11 Pro