The Cat S42 H+ is a rugged phone with an anti-bacterial coating. Silver ions prevent the growth of bacterial. This makes the S42 H+ well suited for specific work environments. Which ones, and what else you can do with the S42 H+, we'll explain here.
Hygiene first
The Cat S42 H+ is a modified version of the Cat S42. The H in the name stands for Hygiene. By mixing silver ions into the casing an antibacterial phone is created. This is because silver has the positive property of killing bacterias. 80% after 15 minutes and 99.9% after 24 hours. And because the S42 H+ is completely waterproof, you can also rinse it under the tap. You can even scrub it with soap and even bleach. Ideal for those who work in an environment where high hygiene is paramount.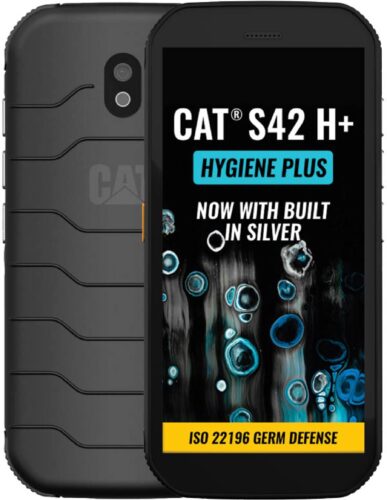 Military quality
And like all other Cat phones, this S42 H+ is a rugged phone. The IP68/69 and MIL-SPEC-810H rating ensures that it will survive a fall, a splash of water or a bucket of dust without any worries. The casing is rubbery, making a case unnecessary. On the outside is a 5.5 inch large screen with an 18:9 ratio and an HD+ resolution. In other words; a large screen with modern proportions and a sharp image. The touchscreen can be operated with gloves on. The screen is protected by Gorilla Glass 5.
Main Cat S42 H+ specifications
5.5 inch screen with Gorilla Glass 5 protection and glove control
Simple 13MP rear main camera and 5MP front selfie camera
Antimicrobial casing with silver ions, stops growth of bacterias
Water & dust resistant IP68/69 with military MIL-SPEC 810H standard
Mediatek Helio A20 processor with 3GB of RAM
32GB storage memory, expandable via memory card
4200 mAh large battery with up to 2 days of battery life
Dual SIM support for inserting 2x nanosim
Suitable for fast 4G mobile internet
Promised Android 11 update
On the camera front, we find a single 13MP on the back and a 5MP camera on the front. That's a bit sparse but sufficient for simple snapshots or video calls. The S42 H+ is an Android phone and can therefore run all the associated apps. Provided that the Mediatek Helio A20 processor can handle it. That is because it is simple. It has 3GB of RAM memory and 32GB of storage memory. The latter can be expanded by inserting a memory card. That extra memory can be used for photos, videos and documents. Apps can usually not be installed on it. The Cat S42 H+ was released with Android 10 but will get a promised update to Android 11 in the fall of 2021.