Similar to the Galaxy Note 8 and available
---
---
Samsung Galaxy Note 8 reviews
| | | |
| --- | --- | --- |
| 5 stars | | 0 reviews |
| 4 stars | | 1 review |
| 3 stars | | 0 reviews |
| 2 stars | | 0 reviews |
| 1 star | | 0 reviews |
---
---
Samsung Galaxy Note 8 product description
The Samsung Galaxy Note 8, sometimes written as one word Note8, is the largest flagship of 2017 with built-in S Pen. With this a pen you can not only operate the phone, you can also make drawings. We will try to explain here what else is possible.
One brave successor
It is brave of Samsung to release another model in the Galaxy Note series after the highly inflammable Note 7, but enough about that. The fact is that Note 8 is the largest Galaxy phone of 2017. The display measures 6.3 inches from corner to corner. Ideal for those who can't get it big enough. Yet the screen is only 0.1 inch larger than the Galaxy S8+. There are more similarities with that device. For example, the Infinity Display is the same. That is a type of screen without any noteworthy screen edges. No large bars above and below the screen. What is new is that this screen can be operated with the built-in S Pen. You can even draw on a turned off screen. Useful for writing notes or cat calls that you shouldn't forget.
Main Samsung Galaxy Note 8 specifications
Large 6.3-inch Infinity screen with support for S-Pen
Double 12.2 megapixel camera with optical image stabilisation (OIS)
64, 128 and 256GB storage options
Waterproof and dustproof IP68 housing and S Pen
8 megapixel Smart Auto Focus Selfie Camera
Away fast mobile internet with gigabit 4G
Powerful 2.3 GHz processor (Samsung Exynos 8890) with 6GB of RAM memory
First Galaxy with Dual Camera
For the first time Samsung applies a dual camera in a Galaxy phone. It is the same module as in the S8, but then the Note 8 has two of them. Both cameras have optical image stabilisation (OIS), which makes sharp photos more likely. One camera is equipped with a wide-angle lens, the other with a telephoto lens. With the first you shoot the 'normal' pictures, with the other you can zoom in. You can even take photos from both cameras simultaneously so that you can decide later on what exactly you want to zoom in on (Dual Capture mode). You can also use the Dual Camera to blur the background so that the subject is better highlighted. You can even adjust this later. Altho Note 8 is not the first smartphone that can do this, it is the first Samsung where this is possible.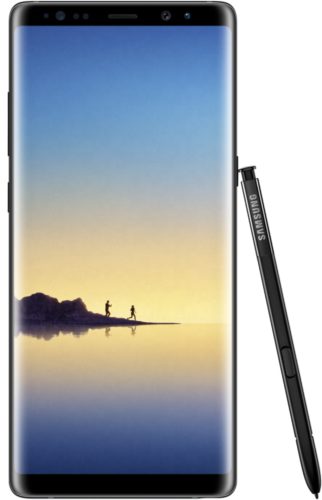 Powerhouse
Samsung has pulled out quite a bit to turn the Galaxy Note 8 into a powerhouse. That seems to have worked out quite well on paper. The housing is waterproof, it can be charged extra fast wirelessly, there is an iris scanner to log in with your eyes, the latest and fastest processor (10nm) has been used and there is a generous 6 GB of RAM memory available. Even the battery has been considered. It is extra safe because Samsung has gone thru a safety plan consisting of 8 steps, unique in this industry. However, the capacity is relatively low; 3,300 mAh. That is even 200 mAh lower than in the S8+, possibly because space was needed for the S Pen. Nevertheless, Samsung still promises a battery life of one day. It is already the umpteenth time that we make the comparison with the S8+ and that is not for nothing; both are very similar. So, if you can miss the S Pen and you do not think the double camera is that important, then you can go for the Galaxy S8+ at a better price.
---
Samsung Galaxy Note 8 specification summary
Dimensions
162,5 x 74,8 x 8,6 mm
Weight
195 gr
Product code
SM-N950
Code name
Samsung Baikal
EAN code
8806088994550, 8806088990743, 8806088979212, 8806088939636, 8806088939582, 8806088937212, 8806088926858, 8806088926131, 8806088879093, 8033779041259, 8033779041235, 3544165539601, 3544165539298
Fingerprint recognition
Android
7.1
Colour display
6.3 inch, Infinity Super AMOLED Quad HD+
Camera
12.2 MP, dual camera sensor
Dirt and waterproof
Front camera
8 MP
Processor
1.7 GHz, 2.3 GHz, Samsung Exynos 8890, octa core
4G (LTE)
Internal memory
128 GB (Storage), 256 GB (Storage), 64 GB (Storage)
Battery
3300 mAh
Fast charging
Wireless charging
Heart rate monitor
---
Samsung Galaxy Note 8 alternatives
Scroll the table below to see more
| | | | | | |
| --- | --- | --- | --- | --- | --- |
| | | | | | |
| | | | | | |
| | Current product | | | | |
| Fingerprint recognition | | | | | |
| Android | 7.1 | 8.1 | | 10 | 10 |
| Colour display | 6.3 inch, Infinity Super AMOLED Quad HD+ | 6.4 inch, Infinity Super AMOLED Quad HD+ | 6.67 inch, Fluid AMOLED | 6.78 inch, Fluid AMOLED, hole-punch display | 6.53 inch, Dot Drop Full Screen Display, notch |
| Camera | 12.2 MP, dual camera sensor | 12 MP, 12 MP, dual camera sensor | 16 MP, 48 MP, 8 MP | 48 MP, 48 MP, 5 MP, 8 MP | 2 MP, 2 MP, 64 MP, 8 MP |
| Dirt and waterproof | | | | | |
| Front camera | 8 MP | 8 MP | 16 MP | 16 MP | 20 MP |
| Processor | 1.7 GHz, 2.3 GHz, Samsung Exynos 8890, octa core | 1.8 GHz, 2.7 GHz, Samsung Exynos 9810, octa core | 2.84 GHz, Qualcomm Snapdragon 855, octa core | 1.8 GHz, 2.42 GHz, 2.84 GHz, Qualcomm Snapdragon 865, octa core | 2.0 GHz, 2.05 GHz, MediaTek helio G90T, octa core |
| 4G (LTE) | | | | | |
| Internal memory | 128 GB (Storage), 256 GB (Storage), 64 GB (Storage) | 128 GB (Storage), 512 GB (Storage) | 128 GB (Storage), 256 GB (Storage) | 128 GB (Storage), 256 GB (Storage) | 128 GB (Storage), 64 GB (Storage) |
| Battery | 3300 mAh | 4000 mAh | 4000 mAh | 4510 mAh | 4500 mAh |
| Fast charging | | | | | |
| Wireless charging | | | | | |
| Heart rate monitor | | | | | |
Complete comparison between the Samsung Galaxy Note 8 and these alternatives or compare with other models
---
FAQs about the Samsung Note 8