Similar to the Xperia 1 and available
---
---
Sony Xperia 1 reviews
| | | |
| --- | --- | --- |
| 5 stars | | 1 review |
| 4 stars | | 2 reviews |
| 3 stars | | 1 review |
| 2 stars | | 0 reviews |
| 1 star | | 0 reviews |
---
---
Sony Xperia 1 in the news
---
Sony Xperia 1 product description
The Sony Xperia 1 is a top model announced by Sony for 2019. It is the first smartphone with a 4K OLED screen and the first Xperia with a 21:9 ratio. In addition, there are again top specifications for the camera, video and audio. Which exactly and which advantages this has for you, we will try to explain here.
CinemaWide is first 4K OLED
First innovation is the screen. It is the first time that Sony applies a screen ratio of 21:9. This is also used in cinemas, and now Sony is also active there. Another funny detail is that you can shoot video in this aspect ratio so that you can feel like a Hollywood director. Besides being remarkably elongated, this is the first OLED panel in a smartphone with an unprecedented high 4K resolution. Even on a 6.5-inch panel, you won't be able to see individual pixels with the naked eye. Non4K content is upscaled via Sony's X1 engine and extra colours are upgraded to 10-bit HDR thanks to remaster technology. If these terms don't mean anything to you, take it from us that images are razor sharp, colourful, with lots of detail and full of contrast.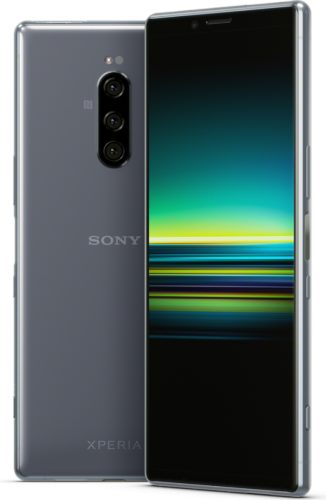 Eye AF in a phone
There are also improvements in the camera area. The back of the Xperia 1 has 3 cameras, each with a 12 megapixel sensor but with different lenses. Sony is a big player in the camera field, especially the Alpha cameras with interchangeable lenses are miles ahead of the competition. It is not surprising that this team helped in the development of the Xperia 1. There is a 26 millimetre lens for every-day use, 52 millimetre lens for 2x optical zoom and a super wide angle lens of 16 millimetre. One for every situation. Special attention has been paid to the autofocus. This has to be so fast that even with fast moving subjects you get a sharp picture. Eye AF ensures that the focus on eyes is automatically and lightning fast for the perfect portrait photo. In burst mode, you can shoot up to 10 photos per second, all sharp.
Main Sony Xperia 1 specifications
OLED 6.5-inch screen with 4K resolution and HDR colours
12 + 12 + 12 megapixel camera with super wide angle, portrait and telephoto zoom lens
Sharp 13 megapixel selfiecam with 84 degrees wide angle f/2.0 lens
Fast mobile 4G internet up to 1.6 Gbit/s
Possibility to place memory cards
Water- and dustproof IP65/68 housing
Powerful Snapdragon 855 processor + 6 GB of RAM memory
Simultaneously insert 2 SIM cards that are both active
Audio, build quality and speed are all fine
Other functions aren't nauseous either. There's Dolby Atmos support for sound that surrounds you, built-in stereo speakers, high-resolution DSEE HX support and wireless LDAC. The Xperia 1 is sandwiched between two Gorilla Glass 6 plates and is IP65/68 water and dust resistant. Just like its predecessor, the Xperia XZ3, the edge is touch-sensitive. It lets you access the Side Sense menu with shortcuts to your most favourite apps or operations. Of course, the '1' uses the most powerful Qualcomm processor available during construction; the Snapdragon 855. With 6GB of RAM memory and 3330mAh of battery power, that should be enough to keep you going fast and long. A pity remains that Sony left out the 3.5mm audio jack port for your own headphones.
---
Sony Xperia 1 specification summary
Dimensions
166,9 x 72,4 x 8,2 mm
Code name
Sony XZ4
EAN code
7311271629566, 7311271629559, 7311271629412, 7311271629245, 7311271629214, 7311271629191, 7311271629184, 7311271629160, 7311271629153
Fingerprint recognition
Android
9.0 (Pie)
Colour display
OLED
Camera
12 MP, 12 MP, 12 MP
Dirt and waterproof
Front camera
13 MP
Processor
Qualcomm Snapdragon 855, octa core
Dual SIM
4G (LTE)
Internal memory
128 GB (Storage)
Battery
3330 mAh
Fast charging
Wireless charging
Audio jack plug
---
Videos about the Sony Xperia 1
Sony likes this movie about the Xperia 1 II but when will it be in the shop?
The Sony Xperia 1 II is made for filmmakers. Why do you see in this video
Audio is a bit of an undershot child become in smartphone land. So many manufacturers nowadays leave out the headphone port. Sony not so proves it with the Xperia 1 II
The Sony Xperia 1 II is made for speed and makes things possible that smartphones couldn't before
The camera on the Sony Xperia 1 II has a lightning-fast autofocus that we know from the Alpha-series. The AI always searches for an eye and focuses on it as you can see in this video.
---
---