---
---
Pro and cons Cat S40 Dual SIM
Sturdy and water-resistant housing
Extra bright screen for outdoors
Modern smartphone with fast 4G internet
Charging point behind a flap that you have to close every time
---
Price Cat S40 Dual SIM SIM Free
---
Cat S40 Dual SIM reviews
| | | |
| --- | --- | --- |
| 5 stars | | 0 reviews |
| 4 stars | | 0 reviews |
| 3 stars | | 0 reviews |
| 2 stars | | 0 reviews |
| 1 star | | 0 reviews |
---
---
Cat S40 Dual SIM product description
The Cat S40 Dual SIM is not only a 'regular' Android phone, it's also virtually indestructible. That seems to be an incompatible combination, yet the Cat seems to have succeeded.
Made to be outdoors
The S40 Dual SIM is dust, drop and water resistant and scratch resistant. And yet Cat wants us to touch it. That's because of the presence of a large 4.7-inch touchscreen. Cat has chosen an IPS panel known for its excellent viewing angles. The screen is extra bright for better reading outdoors. The Cat S40 Dual SIM is surrounded by a rugged housing that is also IP68 certified. This prevents dust particles from crawling into the housing and water from affecting its normal operation. This makes the Cat S40 Dual SIM ideal for outdoors.
Main Cat S40 Dual SIM specifications
IPS screen of 4.7 inch including Gorilla Glass
Quad-core Snapdragon 210 processor at 1.1 GHz, 1GB of RAM memory
High-speed mobile Internet on the go thanks to 4G (LTE)
Support for Dual SIM
8 megapixel camera with HD video recording
16GB of storage but expandable with microSD memory
Waterproof and dustproof housing (IP68 certificate)
Water, dust and fall resistant
The Cat S40 Dual SIM has an appearance that looks rugged at its softest. In addition to dust and water resistance, its housing also offers protection against falls. Cat has it approved to a maximum height of 1.8 metres. If you drop it from that height on hard concrete, it will easily survive. It won't just burst open. Somewhere that's a shame because we would have had a look inside. There we find a solid battery with a specified talk time of 18 hours. If you put it on flightmode, you can even go 39 days ahead with a full battery.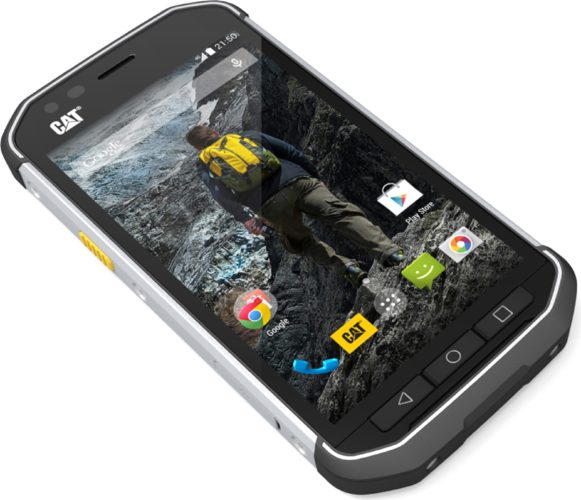 Modern functions
Despite its solid construction, the Cat S40 Dual SIM is just another modern-day smartphone. It supports 4G for fast internet on the go and communicates with GPS satellites to determine your location. The device uses Android 5.1 so you can download numerous apps, both free and paid. The device is also capable of inserting two SIM cards. So you can be reached at two numbers, but it is also possible to surf the internet via one SIM card and make calls via the other.
---
Cat S40 Dual SIM specification summary
Dimensions
144,9 x 74,1 x 12,5 mm
Weight
185 gr
EAN code
5060472350442, 5060280968877
Android
5.1
Colour display
4.7 inch, IPS
Camera
8 MP
Dirt and waterproof
Front camera
2 MP
Processor
1.1 GHz, Qualcomm Snapdragon 210, Quad Core
Rugged casing
Dual SIM
4G (LTE)
Internal memory
16 GB (Storage)
Battery
3000 mAh
---
Videos about the Cat S40 Dual SIM
All you can do is lock the Cat S40 Dual SIM indoors. This device is made to be outdoors!
According to Caterpillar, the Cat S40 Dual SIM is ideal for working outdoors.
---
Cat S40 Dual SIM alternatives
Scroll the table below to see more
| | | |
| --- | --- | --- |
| | | |
| | | |
| | Current product | |
| Android | 5.1 | 9.0 (Pie) |
| Colour display | 4.7 inch, IPS | 5.65 inch, IPS |
| Camera | 8 MP | 12 MP |
| Dirt and waterproof | | |
| Front camera | 2 MP | 8 MP |
| Processor | 1.1 GHz, Qualcomm Snapdragon 210, Quad Core | 2.3 GHz, MediaTek helio P35, octa core |
| Rugged casing | | |
| Dual SIM | | |
| 4G (LTE) | | |
| Internal memory | 16 GB (Storage) | 64 GB (Storage) |
| Battery | 3000 mAh | 3100 mAh |
Complete comparison between the Cat S40 Dual SIM and these alternatives or compare with other models
---
FAQs about the Cat S40 Dual SIM