Similar to the S60 and available
---
---
Cat S60 reviews
| | | |
| --- | --- | --- |
| 5 stars | | 0 reviews |
| 4 stars | | 0 reviews |
| 3 stars | | 0 reviews |
| 2 stars | | 0 reviews |
| 1 star | | 0 reviews |
---
---
Cat S60 product description
This Cat S60 is the first smartphone with built-in thermal camera. Having an infra-red camera can be useful for recognising warm areas. Find out where heat is leaking from your home, or search the workplace for problem areas in pipes or machinery, for example. But searching for people in the dark is also possible.
Close to the action
Mapping heat is made possible by the presence of a so-called FLIR Lepton camera, also known as Forward Looking Infra-red. Thanks to a specially included app, you can immediately see the heat images on the screen and take photos, videos or time-lapse them. The Cat S60's thermal camera sees up to 30 metres and also uses the regular camera to produce a clearly recognisable image. Scroll to the videos below for an extensive demonstration.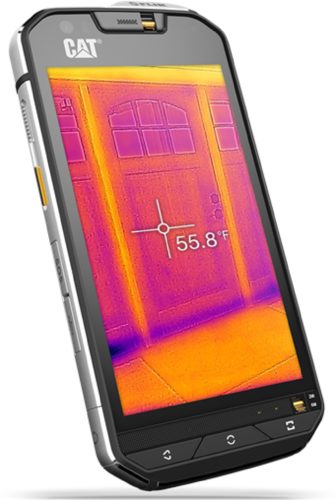 Also just as robust
The Cat S60 isn't just interesting for people in the insulation or construction industries, it's also just a rugged smartphone. Amongst other things, it is up to 5 metres waterproof, survives falls up to 1.8 metres and is completely dustproof. Also noteworthy is the battery of no less than 3,800 mAh. On a 4.7-inch screen, we therefore suspect a long endurance. Cat itself keeps it at 43 days. I'm sure it will, but you won't have to touch it for a minute. That's not very realistic. Nevertheless, we estimate that you can with some ease two full days ahead with a charged battery. This can not be removed but can be charged quickly thanks to Quick Charge 2.0. Short on the charger should then be enough to make the day full.
Main Cat S60 specifications
First with integrated FLIR thermal camera
Place 2 SIM cards (nanoSIM) at the same time thanks to Dual SIM support
13 megapixel camera + Full HD video
32 GB of storage memory, expandable up to 128GB with microSD card
Relative high resolution selfie camera (5 megapixel)
Octacore Snapdragon 617 processor at up to 1.5GHz + 3GB of RAM memory
Waterproof and dustproof housing with IP68 certificate
4.7-inch IPS display with HD resolution and Corning Gorilla 4-glass
4G support for mobile internet
Other specifications
Amongst the other specifications of the Cat S60, we see a HD display, 5 megapixel selfie camera, 4G support and space for up to 2 SIM cards. Because of the latter you can be reached on 2 numbers. Handy for those who have 2 bosses. The device is powered by a Qualcomm Snapdragon 617 which is equipped with no less than 8 cores. One half runs on a fast 1.5 GHz while the other half runs a more energy efficient 1.2 GHz. This creates a combination of both a powerful and economical processor. The whole is powered by Android 6.0 Marshmallow for which numerous apps are available in the Play Store. Both paid and free. To free memory no problem. There is 32 GB of storage space that can be expanded to as much as 128 GB by inserting a microSD memory card.
---
Cat S60 specification summary
Dimensions
147,9 x 73,4 x 12,66 mm
Weight
223 gr
EAN code
5060472350039, 5060472350015, 0810296024082
Android
6.0 (Marshmallow)
Colour display
IPS
Camera
13 MP
Dirt and waterproof
Front camera
5 MP
Processor
1.2 GHz, 1.5 GHz, Qualcomm Snapdragon 617, octa core
Rugged casing
Dual SIM
4G (LTE)
Internal memory
32 GB (Storage)
Battery
3800 mAh
---
Videos about the Cat S60
This is JP and JP works in the insulation industry. In this video, he explains why the Cat S60 is useful at work, or should you say indispensable?
The camera of the Cat S60 sees things that other smartphones just don't see. Heat, for example. Why it is sometimes useful to recognise heat from a distance is made perfectly clear in this video.
Want to take a closer look at the Cat S60 with thermal viewer? This video shows it from all angles
---
---