The Doro 7010 is an easy to use phone with a simple character. Nevertheless, this is a 4G phone with WhatsApp and Facebook
Assistance button
Doro is a phone brand that is mainly aimed at an older target group. For those who don't need all that much or for those who are looking for a phone with functions such as an extra loud speaker or an emergency button. This Doro 7010 has that too, but it is also equipped with modern features like WhatsApp, Facebook and a camera. A phone that is reassuring but also one that is modern and updated. The 7010 is designed like a classic phone with a numeric keyboard underneath the screen. The round control key is used to navigate thru the menu, and the numbers are used to make a call or enter a message. On the back, next to the camera, there is an alarm button, also called the assistance button. Once pressed it calls a preferred contact. If he doesn't answer, the Doro will call the next contact on the list of favourites. It will also send a text message with the location if you are unable to answer.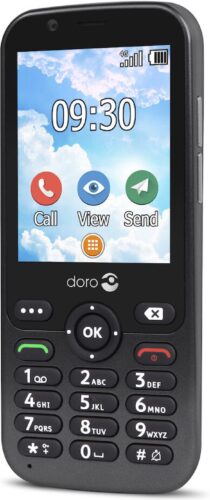 Smartphone in disguise
The Doro 7010 may not look like one, but it is a smartphone. One with 4G internet for quick searches on the go, and with WiFi for fast internet at home. You can run apps on it like WhatsApp and Facebook so you can stay in touch with others. You can take photos. You shoot them with the built-in 3 megapixel camera. It is a simple camera but at least it is possible to shoot something. There is even a flash. The built-in speaker can be extra loud and there is T3/M3 support for hearing aids (HAC)
Most important Doro 7010 specifications
2.8-inch colour screen with large font
3MP camera with flash for easy photos
Shipped with WhatsApp and Facebook app
Special rear alarm button for emergencies
4G support for mobile internet on the go
Wi-Fi support for wireless internet at home
Not in the US
The Doro 7010 is a so-called tri-band phone. Because it cannot handle the GSM850 frequency, it will not work in large parts of the US and South America. This may be a setback for those who are fond of travelling. In the Netherlands and Europe, the Doro 7010 does work as expected.