Similar to the Wing and available
---
---
LG Wing reviews
| | | |
| --- | --- | --- |
| 5 stars | | 0 reviews |
| 4 stars | | 1 review |
| 3 stars | | 0 reviews |
| 2 stars | | 0 reviews |
| 1 star | | 0 reviews |
---
---
---
LG Wing product description
The LG Wing is proof that you don't always have play by the rules. It is LG's own idea of a foldable and why not? A phone with a rotating secondary screen does not only look striking, it also has advantages. What exactly we will explain to you here.
Second screen
A phone with a foldable screen has the advantage of having an extra large screen in a small body. It is also extremely expensive, the technology is still in its infancy and, not unimportantly, the screen still has a visible fold. At LG they thought: there must be another way. They stuck two screens on top of each other that you can slide apart. That way, you still have a large screen in an otherwise small body. This idea took off and now the Wing has arrived. A 6.8-inch device with a Full Vision screen without notches or punch-holes. The screen has a 21:9 ratio, ideal for watching movies. Those who turn that screen a quarter turn get to see a second screen. This one measures 3.9 inches. That 2nd screen is mainly used for control buttons like in the camera.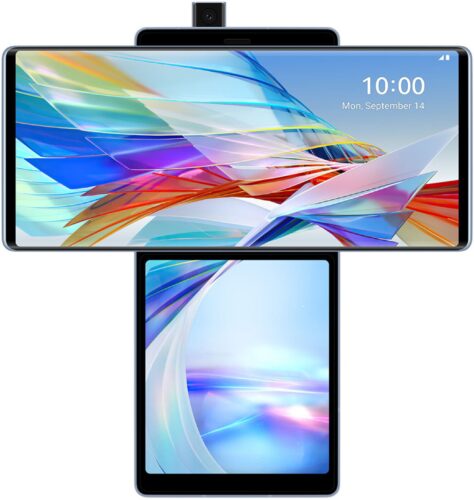 New ways of multitasking
The second screen can also be used to multitask better. You can run 2 apps or watch a video and answer someone in the other screen. Moreover, it doesn't matter which screen you use as your main screen. By rotating the Wing, the interface moves with it and creates new ways of how you can use your phone. Portrait, landscape or upside down. The hinge mechanism has been extensively tested by LG and should survive 200,000 movements. Enough to try out anything. Moreover, it is water-repellant and dustproof so you can take it anywhere.
Main LG Wing specifications
6.8 inch POLED screen with FHD+ resolution and fingerprint scanner
3.9-inch GOLED second screen for multitasking
Special rotating hinge mechanism
64MP+13+12MP rear camera system with Gimbal video and ultra-wide-angle lens
Hidden 32MP pop-up selfie camera
Qualcomm Snapdragon 765G with ample 8GB of RAM memory
4000 mAh battery with 25W fast charging + wireless charging
128GB storage memory, expandable up to 2TB
Not waterproof but water resistant
Gimbal Motion Camera
The Wing is one of the few phones with a built-in gimbal. This allows you to shoot more stable videos. Now other phones also have a form of image stabilisation, but the Wing goes further. By mimicking the gimbal controls on the second screen, including joystick, you can shoot even tighter and professional looking videos. But there are more video functions such as Dual Video, Timelapse Control and Slow Motion. Enough to let your creativity run wild. For photos, you can choose between the 64MP main camera and a 13MP ultra-wide-angle. The 12MP camera sensor is mainly for the Gimbal Motion Camera. There is a 4th camera hidden inside the device. The 32MP selfie camera is a pop-up and only appears when you want to shoot a selfie. This looks nice and tidy but is less convenient for those who want to do face unlocking.
Midrange chipset
The Wing uses the Snapdragon 765G processor from the middle class. In itself a fine processor for every-day use and the 8GB of memory is also generous. But somewhere you would expect a high-end chipset in such a premium phone. As with many other foldables, the battery is on the small side. The one in the Wing measures 4000 mAh and that is on the small side considering the screen size. You can do a quick charge, but with 25W it is not very fast. Wireless charging is also possible. The LG Wing is a Dual SIM phone, which means that you can put 2 nano SIM cards in it. It also accepts a memory card, up to 2TB. However, with the standard storage capacity of 128GB, this is fortunately not necessary.
---
LG Wing specification summary
Dimensions
169,5 x 74,5 x 10,9 mm
Weight
260 gr
Product code
LMF100N
EAN code
8806087049206, 8806087049169, 8806087046335, 8806087046328
Fingerprint recognition
Android
10
Colour display
6.8 inch, Cinematic FullVision, hole-punch display
Camera
12 MP, 13 MP, 64 MP
Dirt and waterproof
Front camera
32 MP
Processor
2.4 GHz, octa core
Dual SIM
4G (LTE)
5G
Internal memory
128 GB (Storage)
Battery
4000 mAh
Fast charging
Wireless charging
Audio jack plug
---
Videos about the LG Wing
You can use the LG Wing to shoot nice time lapse videos like this
Gimmick or not, the LG Wing looks impressive. Really a phone like never before
YouTuber Azzy has used the LG Wing and likes it. What exactly do you see here
Video of rotating LG Wing in action. What do you think of it? Yeah or no?
New movie shows utility secondary screen LG Wing
---
LG Wing alternatives
Scroll the table below to see more
| | | | | | |
| --- | --- | --- | --- | --- | --- |
| | | | | | |
| | | | | | |
| | Current product | | | | |
| Fingerprint recognition | | | | | |
| Android | 10 | 9.0 (Pie) | | 10 | 10 |
| Colour display | 6.8 inch, Cinematic FullVision, hole-punch display | 6.8 inch, Dynamic AMOLED Infinity-O Display | 6.67 inch, Fluid AMOLED | 6.78 inch, Fluid AMOLED, hole-punch display | 6.53 inch, Dot Drop Full Screen Display, notch |
| Camera | 12 MP, 13 MP, 64 MP | 12 MP, 12 MP, 16 MP, VGA camera | 16 MP, 48 MP, 8 MP | 48 MP, 48 MP, 5 MP, 8 MP | 2 MP, 2 MP, 64 MP, 8 MP |
| Dirt and waterproof | | | | | |
| Front camera | 32 MP | 10 MP | 16 MP | 16 MP | 20 MP |
| Processor | 2.4 GHz, octa core | Octa core | 2.84 GHz, Qualcomm Snapdragon 855, octa core | 1.8 GHz, 2.42 GHz, 2.84 GHz, Qualcomm Snapdragon 865, octa core | 2.0 GHz, 2.05 GHz, MediaTek helio G90T, octa core |
| Dual SIM | | | | | |
| 4G (LTE) | | | | | |
| 5G | | | | | |
| Internal memory | 128 GB (Storage) | 256 GB (Storage), 512 GB (Storage) | 128 GB (Storage), 256 GB (Storage) | 128 GB (Storage), 256 GB (Storage) | 128 GB (Storage), 64 GB (Storage) |
| Battery | 4000 mAh | 4300 mAh | 4000 mAh | 4510 mAh | 4500 mAh |
| Fast charging | | | | | |
| Wireless charging | | | | | |
| Audio jack plug | | | | | |
Complete comparison between the LG Wing and these alternatives or compare with other models
---