Similar to the Moto G8 Plus and available
---
---
Motorola Moto G8 Plus reviews
| | | |
| --- | --- | --- |
| 5 stars | | 0 reviews |
| 4 stars | | 2 reviews |
| 3 stars | | 0 reviews |
| 2 stars | | 0 reviews |
| 1 star | | 0 reviews |
---
---
Motorola Moto G8 Plus in the news
---
Motorola Moto G8 Plus product description
The Motorola Moto G8 Plus promises to be an affordable all-rounder with competitive features. And if you cheque out Motorola's product page, you'll find terms like Quad Pixel, Nite Vision and TurboPower. But what does all this mean and does it really help you in daily use? Let's cheque it out here.
Camera with studio quality
We'll start at the camera this time. On the rear of the G8 Plus is a 48 megapixel main camera. However, forget that number because the camera combines 4 pixels to 1 which explains the term Quad Pixel. The idea behind this is that 4 see more than 1. That gives better exposed photos even in the dark. And that's where the term Nite Vision comes from. Even deep into the nite you capture details and realistic colours. Next to the 48 megapixel sensor is a 16 megapixel action camera with 117° ultra wide angle lens. Unfortunately, this camera only works in video mode. Because of the large angle of view, up to 4x more action fits in the picture. This allows you to shoot even in portrait mode, i.e. upright, and creates videos that you can later view back in widescreen. The video stabilisation ensures that images are recorded smoothly. The third camera is a 5 megapixel depth camera. Due to a separate depth camera, the G8 Plus can effortlessly distinguish foreground from background. This in turn results in a better portrait mode in which you can make the background extra blurry. The portrait exposure mode also benefits from this, removing the background so that it looks as if your photos have been taken in a studio.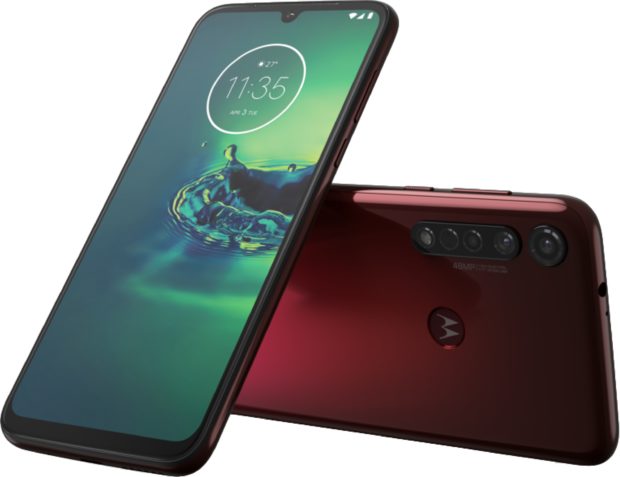 Fast charging, expected performance
In the introduction we also mentioned the term TurboPower. That's a reference to the quick charge capability of the Moto G8 Plus. Altho the built-in 4000 mAh battery won't quit on you easily, when it's empty a short charging session of just 15 minutes is enough for another 8 hours of use. And where other manufacturers sometimes don't provide a quick charger in the box, Motorola does. So in the box you'll just find an 18 Watt charger. What is also fast is the processor. It ensures that the G8+ has sufficient processing power and reacts smoothly. The Qualcomm Snapdragon 665 chip has special artificial intelligence features. It is used in camera mode to automatically select the best settings. The processor is also known for its efficiency which enhances battery life. The Snapdragon 665 is not the fastest chipset currently available, but at this price it's not a weird compromise.
Main Motorola Moto G8 Plus specifications
6.3 inch Max Vision screen with sharp Full HD+ resolution
48+16+5MP camera with high light sensitivity, portrait mode and stable video
25MP selfie camera for sharp self shots
Energy efficient Snapdragon 665 processor up to 2,0 GHz with 4 GB RAM memory
Double nano-SIM slot (shared with memory card)
Comes with 4G
Slot to expand memory up to 512 GB
Stereo speakers with Dolby Audio support
Wise well-considered choice
Besides a versatile camera and a large battery, the Moto G8 Plus has even more advantages. The stereo speakers, for example. That combined with Dolby Audio support ensures a slightly louder audio experience with nice deep bass tones. Another plus is the room for double nano-sim. The slot for the 2nd SIM card must be shared with the memory card. And the latter will soon be needed because the G8 Plus has 'only' 64 GB of internal storage. The Moto allows cards up to 512GB if you want to expand. Did we forget anything else? The 6.3-inch Max Vision screen with modern 19:9 ratio? The water-repellant housing perhaps? The built-in FM radio for music on the go? The fingerprint scanner built into the Motorola logo on the back? I think we discussed everything for you to make a well-considered choice.
---
Motorola Moto G8 Plus specification summary
Dimensions
158,35 x 75,83 x 9,09 mm
Weight
188 gr
Product code
XT2019
EAN code
9504724146750, 9504666112394, 0723755138087, 0723755138070, 0723755136120
Fingerprint recognition
Android
9.0 (Pie)
Colour display
6.3 inch, Max Vision Full HD+, notch
Camera
16 MP, 48 MP, 5 MP
Dirt and waterproof
P2i coating
Front camera
25 MP
Processor
2.0 GHz, Qualcomm Snapdragon 665, octa core
Dual SIM
4G (LTE)
Internal memory
64 GB (Storage)
Battery
4000 mAh
Fast charging
---
Motorola Moto G8 Plus alternatives
Scroll the table below to see more
| | | | | | |
| --- | --- | --- | --- | --- | --- |
| | | | | | |
| | | | | | |
| | Current product | | | | |
| Fingerprint recognition | | | | | |
| Android | 9.0 (Pie) | 9.0 (Pie) | 9.0 (Pie) | 9.0 (Pie) | 9.0 (Pie) |
| Colour display | 6.3 inch, Max Vision Full HD+, notch | 6.1 inch, Curved Dynamic AMOLED Quad HD+, hole-punch display | 6.4 inch, Curved Dynamic AMOLED Quad HD+, hole-punch display | 6.47 inch, OLED, notch | 6.8 inch, Dynamic AMOLED Infinity-O Display |
| Camera | 16 MP, 48 MP, 5 MP | 12 MP, 12 MP, 16 MP | 12 MP, 12 MP, 16 MP | 20 MP, 40 MP, 8 MP | 12 MP, 12 MP, 16 MP, VGA camera |
| Dirt and waterproof | P2i coating | | | | |
| Front camera | 25 MP | 10 MP | 10 MP, 8 MP | 32 MP | 10 MP |
| Processor | 2.0 GHz, Qualcomm Snapdragon 665, octa core | 1.7 GHz, 2.4 GHz, 2.8 GHz, octa core | 1.7 GHz, 2.4 GHz, 2.8 GHz, octa core | 1.8 GHz, 1.92 GHz, 2.6 GHz, HiSilicon Kirin 980, octa core | Octa core |
| Dual SIM | | | | | |
| 4G (LTE) | | | | | |
| Internal memory | 64 GB (Storage) | 128 GB (Storage), 512 GB (Storage) | 1 TB (Storage), 128 GB (Storage), 512 GB (Storage) | 128 GB (Storage), 256 GB (Storage) | 256 GB (Storage), 512 GB (Storage) |
| Battery | 4000 mAh | 3400 mAh | 4100 mAh | 4200 mAh | 4300 mAh |
| Fast charging | | | | | |
Complete comparison between the Motorola Moto G8 Plus and these alternatives or compare with other models
---
FAQs about the Motorola G8 Plus