The Nokia 3.2 is a large Android smartphone with a screen large enough to stare at for a long time. The device is part of the Android One programme and therefore receives monthly updates. As a result, it is always well protected and provided with fresh software for a long time
Size screen ideal for viewing content
The 3.2's screen measures 6.26 inches, which is quite large. However, the device itself doesn't feel that big. That has everything to do with the thin screen edges at the top and sides. This screen shows images in a HD+ resolution so that text is reasonably sharp altho it can be sharper but you will have to spend a lot more money for that. This Nokia 3.2 has a reasonably sharp price tag and you will soon end up with an HD resolution. The screen ratio of 19:9 is very modern and ideal for watching movies.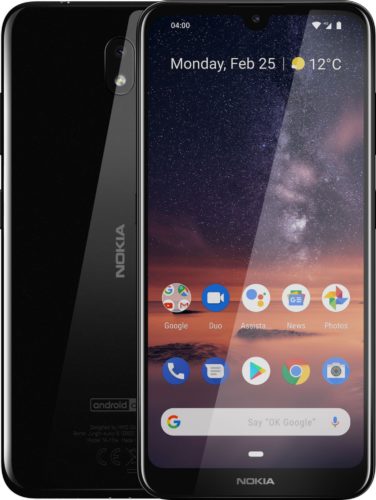 Battery large enough
A large screen consumes more energy. That's a fact. To compensate for this you will find a larger battery with a capacity of 4000 mAh. In theory enough for 2 days already, we wonder if you are going to make it. More than a day should be possible. The Nokia 3.2 is helped by the Android operating system under which it runs. Version 9 'Pie' has a battery saving function that learns from how you use the device. Little used apps automatically go into the background and don't consume power unnecessarily
Main Nokia 3.2 specifications
6.26 inch large screen with HD+ resolution
13 megapixel camera with autofocus and flash
5 megapixel selfie camera with f/2.2 lens and face lock
Slot for up to 400GB of external memory
4G support for fast mobile internet
Simple Quad-core Snapdragon 429 processor at 1.5GHz
Single rear and front camera
In a world where phones have 2, 3, 4 and even 5 different camera's on the back, this 3.2 comes off very badly. On the back we find a single 13 megapixel camera. Nokia promises to make razor-sharp shots with this camera. This will certainly work during the day, but we wonder if it will work in the evening as well. The camera lens has a maximum aperture of f/2.2 and that is really not enough for dark situations. Luckily there is a flash to shine a light on. At the front is a 5 megapixel shooter with an f/2.2 lens as well. This selfie camera can also be used to unlock the Nokia 3.2. This is not a superfluous luxury because a fingerprint scanner is missing. All of this is powered by a Snapdragon 429 processor, which is an entry-level processor from Qualcomm. And you notice that; the device is not a speed miracle. Every-day tasks will be fine, but gaming and labour-intensive apps shouldn't be done to it.