The Nokia 800 Tough is the first rugged Nokia with a truly indestructible appearance. The phone may look a bit outdated due to its numeric keys, but it really is a smartphone with apps present. Think about WhatsApp and Facebook
First truly rugged Nokia
If you thought old Nokia phones were indestructible, take a look at this 800 Tough. The Nokia 800 Tough is the company's first official rugged phone. Ideal for those who spend a lot of time outdoors, in the great outdoors or just on the road. It is highly waterproof and dust-free. The sturdy case makes it fall resistant. The result is a phone that can withstand the elements including high temperatures. Ideal for workers on the move or for people who prefer to be in nature rather than at home.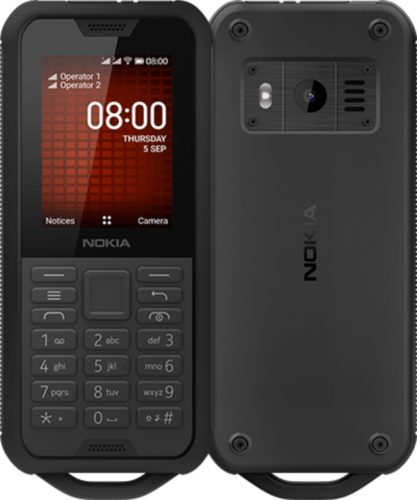 Full-fledged smartphone
Don't let his looks fool you. The Nokia 800 Tough is a true smartphone. It runs the relatively unknown KaiOS, but there are apps available for it such as WhatsApp and Facebook. You can also use it to browse the internet quickly thanks to 4G support. Even the helpful Google Assistant is at your disposal. You can give him/her voice commands such as turning on the flashlight. Speaking of which, you'll find it on top of the device and it's more powerful than a standard camera LED flash
Main Nokia 800 Tough specifications
Robust appearance is waterproof, dustproof and drop resistant
Simple 2 megapixel main camera with flash
Compact 2.4 inch display with 240 x 320 pixel QVGA resolution
4G support for fast internet on the go
Memory card slot supports up to 32 GB of additional memory
Room for 2 nanoSIM cards or 1 nanoSIM + microSD memory card
No touch screen, but can quickly type text
Despite the fact that the Nokia 800 Tough is a smartphone, it is one without a touchscreen. Input is done via control buttons instead of via the screen. That will take some getting used to and may be a bit slower than you are used to. Still, you can enter text pretty quickly by dictating it to Google Assistant. That way you can enter text quickly and without hands. Not to mention the most important advantage of the 800 Tough: its unprecedented battery life. With a single active SIM card up to 34 days. Yes, you read that right. But you won't reach that number in practise, because you would have not to use it and leave it alone. And this 800 Tough is made to go outside.