---
Need a sustainable phone? Here you'll find the most sustainable phones, and we'll explain why. Are you looking for a new sustainable phone? Then this is the beginning of your search. Read more
Give your opinion and help others
---
Buying a new mobile may not seem like the most sustainable thing you can do at first glance, but sometimes there is no other way. Or is it?
Consider refurbished phone
The most durable phone is the one you already own. It already exists, and no extra materials have to be mined. However, if your trusty companion breaks down or needs replacement, there's little choice but to buy another one. Consider a refurbished phone. This second-hand phone has been chequed and therefore gets a second life.
Sustainability programmes
The best way for a consumer to see how sustainable (or not) a mobile phone is if it has a certificate. There are several agencies and organisations that issue certificates to show whether products are sustainable or not. Below are the most important ones:
B Corp
Blue Angel
EcoVadis
TCO Certified
When a product mentioned on this website has a sustainability certificate from the above organisation, we list it in the specification sheet.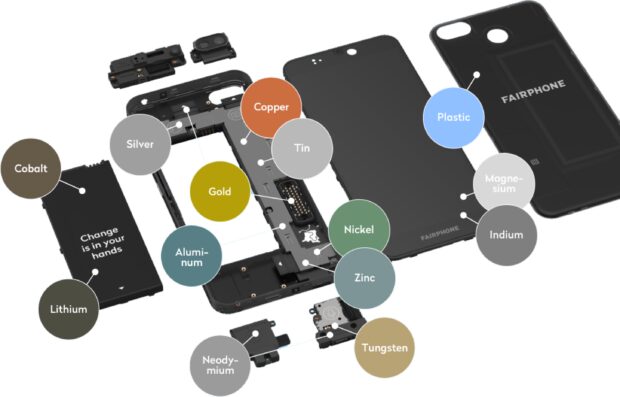 Sustainable materials
Phones are rarely sustainable because they consist of rare metals and minerals. Think of lithium, cobalt, and tungsten. Many of these materials are scarce, difficult to mine, or associated with human rights abuses. Cobalt, for example, is known for child labour. Finding alternatives is not always possible. The best solution is to use as little of these materials as possible and to make agreements with the mines about good working conditions.
A brief overview of materials found in your phone and what they are used for:
| Material | Used for |
| --- | --- |
| Gold (Au) | Printed circuit board and connecters |
| Cobalt (Co) | Battery and microchips |
| Copper (Cu) | Wiring |
| Gallium (Ga) | Semiconductors |
| Indium (In) | Semiconductors and touch sensors |
| Litium (Li) | Battery |
| Manganese (Mn) | Toughening and battery |
| Nickel (Ni) | Stainless steel |
| Tin (Sn) | Solderings |
| Tantalum (Ta) | Condensators |
| Tellurium (Tae) | Strengthening of metals |
| Tungsten (W) | Vibration motor |
Specialised brands
As mentioned, an average phone contains quite a few rare metals and minerals—however, the less, the better. And if nothing else is possible, try to recycle as much as possible or make fair agreements with the mines. A good example of a company that does exactly that is Fairphone
This Dutch company, founded in 2013, makes sustainable smartphones and tries to improve the entire supply chain. The company's phones are made of conflict-free materials and are mainly self-repairable.
Repairability
If your phone breaks down, it is much more sustainable to repair it. However, this is more difficult than before because batteries are non-removable, and almost the entire front consists of glass. Consider using a repair services or companies for a screen replacement or battery swap. Usually, this is much cheaper than buying a new mobile.
Doing repairs yourself is difficult because phones nowadays are glued down. Companies don't make it easy for you either, for example, because they use custom screws. Apple is notorious for this. In addition, often, the warranty expires if you try to open your phone yourself. Many major manufacturers are actively lobbying against this "Right To Repair." They want you to buy a new product instead of repair an existing one.
Those not afraid to pry open glued-down phones can do it themselves. iFixit has many repair manuals available (in many languages) to fix a wide variety of phones and problems. Note that this often requires specialised tools. iFixit also assigns scores to how easy a repair is to perform. To the extent that these are relevant, we show them in the specifications.
Software support
A phone's life depends not only on the hardware but increasingly on the software. For example, security problems can make it advisable to stop using a phone. Or phones may no longer work because software is outdated. Therefore, manufacturers must make commitments about how long they will maintain a phone with software and security updates.
The rule here is: the longer, the better. Apple currently scores best in this regard. An average iPhone receives seven years of iOS and security updates. That's much longer than manufacturers of Android smartphones. For example, Google promises at least five years of updates for its Pixel phones and Samsung up to 4 to 5 years for select Galaxy A, S, and Z series models. Phones under the Android One programme, such as Nokia's, also score reasonably well because they must release updates for at least two years.
It is advisable to cheque in advance what a manufacturer has promised about its update policy before you buy. The longer a phone is supported, the longer it will last. And the longer it lasts, the more durable it is.
7 results. Click here to view all
We are searching all products. One moment please; it's definitely worth the wait!