Similar to the RG850 and available
---
---
RugGear RG850 reviews
| | | |
| --- | --- | --- |
| 5 stars | | 0 reviews |
| 4 stars | | 0 reviews |
| 3 stars | | 0 reviews |
| 2 stars | | 0 reviews |
| 1 star | | 0 reviews |
---
---
RugGear RG850 product description
The RugGear RG850 is one of the few truly rugged Android phones that doesn't immediately look like a toughphone. In fact, it looks pretty elegant. That combined with many useful features including a screen that is easy to read outdoors and a long battery life make it a true all-rounder.
Don't let it fool you
Believe us when we say that it's pretty hard to find rugged phones with a little modern screen. By this we mean a screen without overly thick screen edges. This RG850 is one of the few truly rugged phones with such an 18:9 screen. That not only makes it modern, a little extra screen is also very handy. The size comes out at 6 inches and this is protected by Gorilla Glass that doesn't fall apart right away. The thickness of the RG850 comes out at 11.5 millimetres which is not immediately very thick. And yet the housing protects you against drops, impacts, water, dust and high temperatures.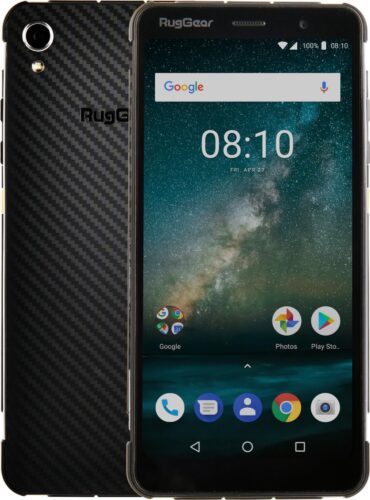 Besides robust also just an Android smartphone
The RugGear RG850 is a smartphone running Android. That means you can instal apps including the popular WhatsApp, Facebook or Google Maps. You can put 2 SIM cards in it simultaneously (2x nanosim) so you can be reached on 2 numbers. Handy for those who used to go out with 2 separate phones. The battery has a solid capacity of 4000 mAh. This means that the RG850 has a long battery life. Handy if you are on the road for a long time. Unfortunately there is no fast charging, so take some time to refuel. Charging can be done via the handy USB-C. This cable has no top or bottom so you can't plug it in the wrong way. Photos can be taken with the 12 MP camera with autofocus. The selfie camera has a resolution of 8 MP and is sharp enough for simple self-portraits.
Main RugGear RG850 specifications
5.99 inch HD+ screen with Gorilla Glass protection
Robust IP68 housing is waterproof (1.2 metres for 30 minutes) and drop resistant (1.5 metres)
Hybrid Dual SIM support (2x nanosim card or 1x nanosim card + memory card)
32GB storage memory, expandable with up to 128GB
Snapdragon 430 processor with 3GB of RAM memory
4000 mAh large battery but without fast charge function
The fine print
After reading this storey we would almost run straight to the shop ourselves to buy a RG850. Now we wouldn't advise against that because there are also some drawbacks. For example, the screen resolution of HD+ is not very high. Especially text will suffer from this. It can seem a bit grainy. Also, the processor, a Qualcomm Snapdragon 430, is not very powerful. Here and there some hiccups the RG850 is not strange. Furthermore, the storage memory of 32GB is not very much. Fortunately, you can easily expand this to a maximum of 128GB by inserting a memory card. You do lose the possibility to use a 2nd SIM card.
---
RugGear RG850 specification summary
Dimensions
165 x 82 x 12,55 mm
Weight
210 gr
EAN code
6954561705260
Android
8.1
Colour display
5.99 inch, TFT
Camera
12 MP
Dirt and waterproof
Front camera
8 MP
Processor
1.4 GHz, Qualcomm Snapdragon 430, octa core
Rugged casing
Dual SIM
4G (LTE)
Internal memory
32 GB (Storage)
Battery
4000 mAh
---
Video about the RugGear RG850
The RugGear RG850 is not a phone that likes to sit at home. Take it on an adventure!
---
RugGear RG850 alternatives
Scroll the table below to see more
| | | | | |
| --- | --- | --- | --- | --- |
| | | | | |
| | | | | |
| | Current product | | | |
| Android | 8.1 | 10 | 10 | 9.0 (Pie) |
| Colour display | 5.99 inch, TFT | 6.3 inch, TFT, hole-punch display | 5.7 inch, IPS | 5.7 inch, IPS |
| Camera | 12 MP | 25 MP, 8 MP, dual camera sensor | 12 MP | 12 MP |
| Dirt and waterproof | | | | |
| Front camera | 8 MP | 13 MP | 8 MP | 8 MP |
| Processor | 1.4 GHz, Qualcomm Snapdragon 430, octa core | 1.7 GHz, 2.3 GHz, octa core | 2.0 GHz, Qualcomm Snapdragon 660, octa core | 2.3 GHz, MediaTek helio P35, octa core |
| Rugged casing | | | | |
| Dual SIM | | | | |
| 4G (LTE) | | | | |
| Internal memory | 32 GB (Storage) | 64 GB (Storage) | 128 GB (Storage) | 64 GB (Storage) |
| Battery | 4000 mAh | 4050 mAh, user replaceable | 4000 mAh | 3100 mAh |
Complete comparison between the RugGear RG850 and these alternatives or compare with other models
---
FAQs about the RugGear RG850